Philosophy Scholarships
Study Aristotle and Plato, Great for Pre-Law
Interested in studying some of the most intellectually important texts in history? Like to craft a stimulating argument? A major in Philosophy may be just what you're looking for. But what does one do with a Philosophy degree?
Students majoring in Philosophy are engaged in a wide array of disciplines and issues both current and historic. In fact, many students use the major as a Pre-Law degree. Pre-law students learn to evaluate and analyze information, present cogent arguments that uniquely prepare them for law studies.
However, students may also pursue more advanced degrees in Philosophy, preferring instead to consider academic careers. Philosophy majors are also prepared to pursue business, education, medicine and a host of other fields that demand professionals be roundly educated and able to think and argue critically.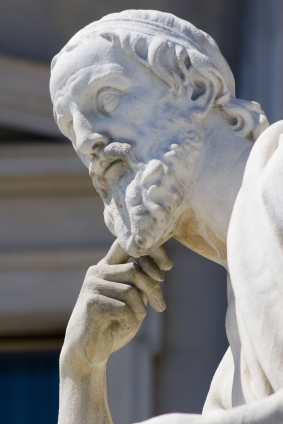 There are a few private scholarships offered to Philosophy majors, but school-specific scholarships are abundant. Below are listed some of the awards available. If you don't see your school(s) of preference, check with their Philosophy department to see what funding they may offer, or broaden your scope to include schools that offer you the extra financial advantage you desire.
Private Scholarship Programs
The Davidson Fellows Scholarship awards scholarships worth $50,000, $25,000 and $10,000 to outstanding young students (18 years old and younger) who have completed a significant piece of work. This award is open to many fields including Philosophy. Applicants must submit three to five samples of their writing and three nomination forms. Essays explaining the significance and process of creating your work are also required, as is a video of the applicant explaining the work itself.
Ayn Rand is famous for her objectivist philosophy, and now the Ayn Rand Institute sponsors essay contests to those who can explain the significance of this philosophy through four of her novels. Competitions for We the Living, Anthem, and The Fountainhead are open to high school students, while the Atlas Shrugged competition is open to high school, undergraduate and graduate students. Over 600 prizes totaling $100,000 are awarded each year.
School-specific Scholarship Programs
Students pursuing Philosophy studies at the California State University-Long Beach currently offers two scholarships. The Whittington scholarship is funded through a generous endowment gift from the Whittington family. Marie Whittington is a former student and professor at CSULB. The Friends of Philosophy scholarships are funded directly by the department. Awards are $300, but the number of recipients each year may vary. Applicants must be upper-division or graduate student majoring in Philosophy. A minimum 3.2 GPA is required, as is the students desire to complete their degree at CSULB.
Hardin Simmons University in Texas is a small, private college recognized for a number of outstanding qualities, including its selection of students and size. Students interested in studying Philosophy have access to two scholarships specifically awarded to Philosophy students. The Truett Walton Endowed Scholarship is given annually to outstanding students in the department. Walton Scholars are recognized for their academics as well as talent in the major. The Hurst Endowed Scholarship for Philosophy is also awarded to scholarly students in the department. Both scholarships are open to both majors and minors in Philosophy.
Eastern Michigan University offers four scholarships specifically for Philosophy students. The Esther Walker Barnard Philosophy Scholarship, Friends of Philosophy and History Scholarship, George Rhodes Scholarship and Sophia Philosophy Scholarship are all awarded to outstanding philosophy students. The Gregory Stephens Memorial Scholarship is open to philosophy students, as well as other majors. There are also several university-wide scholarships available.
Washington State University Department of Philosophy provides several funding opportunities.
Several Young Philosopher Scholarships of $1,000 are offered to incoming freshman and current WSU students (who have not yet reached Junior status) with a strong interest in Philosophy. Two letters of recommendation and an essay stating the applicant's scholastic plan are required. Similar scholarships are offered to transfer students with the same criteria.
Potter Scholarships to upper-class students with at least a 3.0 GPA and a proven interest in Philosophy. Students must show career promise as well as academic excellence. Recommendation from faculty is a plus.
Students are also encouraged to apply for other awards, such as the Phi Beta Kappa scholarships, which pay for a full year of tuition.
Students studying Philosophy at Illinois State University have a couple of scholarships directly available to them through the Department: The Kenneth and Marilyn Kennard Philosophy Scholarship and the Outstanding Senior Scholarship are awarded to outstanding seniors at the end of the spring semester. The Scott M. Elliot Philosophy Scholarship is awarded to an outstanding junior majoring in philosophy.
By far the bigger opportunities are for awards administered by the larger College of Arts and Sciences, for example:
Redbird 5 Scholarships are given to academically excellent students with demonstrated financial need. A minimum GPA of 2.8 is required. Award may vary, but is approximated at $3,000.
John and Susan Freed Scholarship is funded in memory of their daughter. It is awarded to a junior with at least 75 credit hours, and a minimum GPA of 3.0. Qualified applicants must prove that a disability, especially a learning disability, is no reason not to excel. Estimated award of $1,000.
College of Arts and Sciences Undergraduate Scholar Fund is administered to those academically talented students who require travel expenses for national meetings and professional conferences to present a paper or work. Letters acknowledging the importance of the work, and acceptance for presentation are required.
The University of Louisiana-Lafayette awards a small scholarship directly to its outstanding Philosophy students. The Walter Craddock Endowed Scholarship gives $200 awards to academically talented and involved students with professional potential. Applicants must be upperclassmen to be considered. In addition, students who have earned an "A" on a paper in a philosophy class, or whose paper was nominated by their professor can compete for a certificate and prizes from the John Vigorito and Robert Kirkpatrick Essay Prizes in Philosophy.
Missouri State University offers students in the Philosophy program the following scholarships:
William Brown Scholarship awards an annual $500 prize to an upperclassman scholastically at the top of his or her class.
Robert Foster Scholarship is given based on academic performance, in combination with economic disadvantage. Recipient must be at least in their junior year of studies in the major. Award is an estimated $1,000.
Philosophy Department Scholarship is given to an outstanding student. A departmental GPA of 3.4 and overall 3.0 GPA are required. Awards are around $250 and depend on funding.
Philosophy Club Scholarship is awarded to a full-time sophomore or greater, with a minimum 3.0 GPA. Preference is given to members of the club.
Boise State University offers a General Philosophy Scholarship to fee-paying students with a minimum 3.0 GPA. The Delight Obenchain Endowed Scholarship in Philosophy is awarded to an outstanding female, part-time or full-time Philosophy major with a minimum 3.0 GPA.
American University offers the $1,000 Harold J. and Ruth Pearson Award to graduating seniors for their outstanding work in philosophy. The LM Harris Memorial Scholarship awards $1,000 to junior or senior philosophy majors. Additional fellowships, grants and jobs are available to both undergraduate and graduate students.
Arts and Humanities
Browse Scholarships
Resources
More Educational Resources