College Writing Scholarships
Find all Types of Writing Scholarships from Creative to Professional
Writing is an animal that takes many and varied forms. One writer in the field, a journalist perhaps, may have little in common with the poet next door. The spectrum of career opportunities for writers is vast – whether you are dedicated to freelance, nature, travel, news, technical, creative, non-fiction, memoir, biography, translation, poetry, children's literature, magazine, guidebook or textbook writing, you are a writer. As such, you are going to be eligible for a number of scholarships awards specific to your field that will help you pay for college.
One definite advantage that writers have in the scholarship arena is their manipulation of the word through essay and their ability to generally portray themselves well through the written form. While many students seeking scholarships dread the writing and essay parts of the application process the most, writers can look forward to that part where they can put their skills up against thousands of others hoping their essay will touch the judges the most.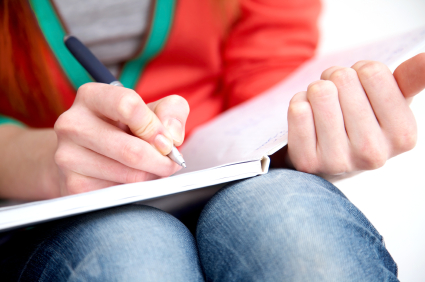 It is important in your endeavor to find funding that you be as specific as possible in your intentions as a writer, because the more clear you can be, the better your chances of finding a very targeted scholarship to suit your needs. For instance, if you are pointedly interested in doing travel writing for a magazine like National Geographic, seek out internships and scholarships from sources like that and make sure to emphasize courses like journalism, magazine and non-fiction travel writing. We've selected a few award opportunities below to get you started on your journey to finance your undergraduate or graduate writing degree:
Scholarships Funded by Publications and Organizations
Scholastic Art and Writing Awards
The Scholastic Art and Writing Awards, administered by The Alliance for Young Artists and Writers awards more than one million dollars annually to students in grades 7-12. Scholarships are awarded based on 10 writing categories and 16 art categories. Among other awards, five writers will receive cash grants of $10,000. The Alliance for Young Artists and Writers has been rewarding and showcasing young talent for decades including the now well-known author Joyce Carol Oates in 1956. This is a great opportunity for a young student to get money for writing even before they hit college.
Poets & Writers
Poets & Writers is a literary journal as well as fantastic online resource for finding all kinds of grants, scholarships, contests, and opportunities available to writers all over the world. Visit the section of their website dedicated to Tools for Writers to start exploring their extensive databases of awards. Their listings of well-funded college writing programs is also invaluable, and will come in very handy in your search for financial aid specific to you.
College Scholarships
Davidson College
Best-selling crime novelist Patricia Cornwell, alumna of Davidson College in Davidson, North Carolina, awards two annual scholarships of $10,000 each to two outstanding writers who are entering students at Davidson and show promise and ability and are actively pursuing a degree relative to writing. Contact the Davidson department of English for more information on these generous awards.
Naropa University
Naropa, a Buddhist university in beautiful Boulder, Colorado, is home to the Jack Kerouac School for Disembodied Poetics and a thriving writing program. In addition to four-year programs, they host the annual Summer Writing Program, an intensive literary workshop, for which there is some scholarship funding. Undergraduate or graduate students seeking funding for their writing degree from Naropa will have several scholarships to apply for along with their application to the college, in addition to a number of work-study and fellowship opportunities offered by the Department.
Kate Herzog Scholarship
The annual Kate Herzog Scholarship award for promising writers gives away not only modest college scholarships but arranges for the winners to have a consult with an agent, editor or film producer. The four scholarships are sponsored by the Willamette Writers and Barnes and Noble, and these awards are only for writers in the Pacific Northwest. Winners will be invited to attend the Willamette Writers Conference in Portland, Oregon. High school seniors, and college freshmen and sophomores are eligible to enter.
To enter, submit a previously unpublished writing sample of no more than 1000 words, a cover letter with a paragraph that includes the student's goals as a writer, and a letter of recommendation from an instructor in the current academic year. First place is a $500 college scholarship, second through fourth places $250 scholarship and 5th place is a pass to attend the Willamette Writing Conference.
Scholarships from Writer's Leagues
Many regions have their own writer's leagues to support and encourage the work of their local authors. Such organizations are devoted to nurturing developing writers, especially students, and many either sponsor or advertise current contests and scholarships. For example:
The Writer's League of Texas sponsors two writing scholarships.
The Bess Whitehead Scott Journalism Scholarship is a $1,000 annual "Scholarship for Scribes" presented to a junior or senior university student pursuing a degree in Journalism or a related field. Applicant must be currently enrolled in one of the following universities: Baylor University, Sam Houston State University, Texas A&M University, Texas State University, University of Mary Hardin-Baylor or the University of North Texas. Applicant must demonstrate significant financial need. Applicant must complete and print the online application and submit along with essay questions stated on it.
The Bess Whitehead Scott Scholarship for Older Adults $1,000 annual award is presented to a male or female age 40 and over who is pursuing work, study, or a degree in journalism, writing or a related field. Applicant must be a current resident of the state of Texas and demonstrate financial need. Applicant must complete and print the online application and mail it along with the answers to the essay questions. You can apply through the Austin Community Foundation.
More Scholarships for Writers
Many other colleges and universities across the United States offer writing scholarships to students who are either currently enrolled or planning to attend that particular institution. Writers interested in supplementing their funding with more than can be found in the above scholarships should be sure to check with the English or Creative Writing department of their school to see if there are any other school-specific awards available.
In your applications for writing scholarships, remember that nothing says more about you than the essay – it is likely the first impression that the judge or benefactor will have of you, and since you are specializing in writing the craft of the essay is a critical statement of you as a person and you as a writer. Let it stand alone and strongly in your favor, and you will be well on your way to funding your college education through your words.
Arts and Humanities
Browse Scholarships
Resources
More Educational Resources