Find Occupational and Environmental Health Nursing Scholarships
Be an Instrumental Part of Business and Industry
If your passions and skills are spread over the broad range of medicine, the working environment, health, and safety, you may be the ideal candidate for a life's work as an occupational and environmental health nurse. This brave and rewarding career choice is demanding of extensive training, acute attention to detail, and the unquantifiable characteristics of patience and tenderness when dealing with patients who are at-risk.
Nurses in this arena are responsible for ascertaining and shaping the settings for workers in high-hazard jobs, and preventing and treating symptoms from career-related and environment-related injuries and illnesses. Occupational and environmental health nurses work in a variety of settings, including businesses and industrial sites, inpatient and outpatient facilities. They are trained to provide counseling, health education, and first aid to employees and patients.
In many cases, nurses may choose to pursue graduate degrees in the field and go on to teaching and high-level supervision, but even those with only undergraduate training are in quite high demand for this highly specialized field. There is financial aid available no matter what level of education you choose to attain.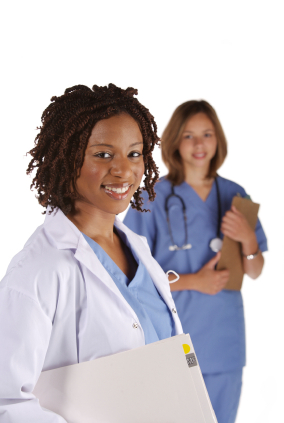 Because of the quantity of dedication and unique capabilities involved, scholarships are quite plentiful for all nurses, but this particular field also comes with funding from generous occupational safety organizations. The opportunities below are a sampling of all those available to students who wish to go into this branch of nursing, so check them out as a start on your journey to finding college funding.
Scholarship Opportunities
American Association of Occupational Health Nurses (AAOHN)
The AAOHN awards a number of $3,000 Professional Development Scholarships annually. Registered nurses pursing a Bachelor of Science in Nursing degree, either full or part-time, as well as those studying occupational and environmental health at the graduate level, are eligible to apply.
Applicants must submit a 500-word personal essay that synthesizes their career goals with their educational choices – remember to be specific. Two letters of recommendation are also required to complete your application.

In addition, the AAOHN also offers a couple of other scholarships to deserving students pursuing the career. The Liberty Leadership and the Academic Education scholarships are worth $1500 and $2500, respectively. Application details for these generous awards are located on the website.
The American Society of Safety Engineers (ASSE)
The Thompson Scholarship for Women in Safety provides funding in the amount of $1,000 to one student pursuing a graduate degree in occupational health nursing. A GPA of 3.5 or higher is required to be considered for this award.
The ASSE is also a sponsor to a wealth of other safety-related scholarships. While the above is the only one specifically related towards women, there are a few others that both men and women going into occupational nursing will want to look into through their website.
The American Lung Association of California
Graduate nursing students, including those enrolled in occupational and environmental health nursing programs, can apply for the Scholarship in Advanced Practice Nursing with a Focus in Pulmonary Care sponsored by the American Lung Association of California.
These significant awards are $6,000. Interested students are asked to submit a completed application form, a curriculum outline, and a letter of support from the faculty director of the applicant's program. Candidates must also submit two letters of recommendation. More information about the award can be found on the website, along with a host of other grants and scholarships for health sponsored by the Association.
Kansas Nurses Foundation
The state of Kansas has a very robust program in support of its hard working nurses. The Patsy Quint Occupational Health Nurses Scholarship given by the Foundation has funding available for future nurses studying anywhere along the spectrum from Bachelor's to Doctoral education.
$500 is given out by the Kansas State Nurses annually, with applications due at the end of June. Letters of recommendation, academic prowess, leadership capabilities, prior achievement and a personal statement are all taken into consideration for this award.
Northeast Association of Occupational Nurses
Through this regional association, a $1000 scholarship by the name of the Kathleen Schusler Memorial Scholarship for Academic Study and ABOHN Certification is made available to qualified students. The award money is available to future occupational nurses pursuing a Bachelor's or Master's degree, or a professional certification in the field. Along with the application, candidates for the monies must submit documentation of their enrollment in a program and must display dedicated interest in either occupational or environmental health nursing.
Willamette View Health Center
As a prime example of a scholarship fund made possible by an individual employer with vested interest in education and in development in the field of occupational nursing, we find the Willamette View Health Center in Oregon. The Center offers the Marion A. Lindeman Scholarship which supports the continuing education of its employees by funding their occupational nursing courses. The recipient must be a resident of Oregon, demonstrate significant financial need, and display interest in pursuing their nursing education.
University of Minnesota, Department of Environmental Health Sciences
National Institute for Occupational Safety and Health (NIOSH) Traineeships provide tuition reimbursement and stipends to outstanding full-time students enrolled in the occupational health nursing program at the University of Minnesota. The college has a large number of arenas for concentration, including Industrial Hygiene and Hazardous Substances Training.
Students may also apply for one of the Department's competitive scholarships through the website's plentiful offerings. There are a number of fellowships, scholarships, and grants based on merit and research in the area development of injury prevention.
Harvard School of Public Health, Education and Research Center (ERC)
Traineeships are offered to students enrolled in the occupational health nursing program at Harvard, one of the most renowned and competitive schools in the nation. This program is tough to get into but very rewarding in its level of training and post-graduate career placement potential.
Those chosen to receive awards are entitled to partial financial aid in the form of tuition and fees, stipend, and health insurance. Contact the Education and Research Center for more information.
University of North Carolina, School of Public Health
Graduate students in occupational or public health nursing at the University of North Carolina who have completed at least half of their course work toward a Master's Degree are eligible to apply for two annual awards: the Margaret Blee-Ruth Warwick Hay and the Imogene Pence Klingenfus Awards.
These monetary prizes are given to those nurses who have shown outstanding leadership potential and academic accomplishment. A minimum GPA of 3.0 or higher is required, and scholarship recipients must have distinguished themselves with commitment to the field.
The Christ College of Nursing and Health Science
The Christ College of Nursing and Health Science, located in Cincinnati, Ohio, is home to dozens of varying scholarship incentives for its students who display merit and need. Among them is one dedicated to occupational health nurses.
The Genevieve Kepler Rudolph Scholarship is awarded annually to a second-year student. Applicant's GPA and demonstrated interest in the field of either community or occupational health nursing are taken into consideration.
More Opportunities in Occupational Nursing
Occupational nursing is a clearly defined and narrow field with fairly predictable resources for its study: professional associations, a few private and public colleges, and the rare individual employer or benefactor. If the above listing serves to whet your appetite for further funding and scholarship opportunities, the best thing you can do is turn to your local college or university for more community-oriented resources. Their financial aid department or school of nursing may have scholarship awards that you wouldn't be able to find out about elsewhere, and may lead you to other resources that will benefit your search.
Keep a look out for more general nursing scholarships, such as the Nursing Scholarship Program sponsored by the US government's Health Resources and Services Administration, which provides full tuition and a stipend in exchange for a two-year work agreement with the recipient. While not targeted directly towards occupational nursing, you may have the flexibility to choose that concentration or specialize within your course of study.
In any nursing applications to the schools and associations you may be targeting, be sure to be strong, intentional and clear about your special interest in occupational and environmental health nursing. What aspect of physical health maintenance do you feel most capable of? What developments would you aspire to make in the arena of industry safety standards? This branch is so specialized that you will want to make your skills and goals very specific to show how well you are matched with the field. This will make your application one to remember, and you may win yourself a scholarship for your unique skills in care-taking and injury prevention.
Nursing Degree Levels
Specialties
Browse Scholarships
Resources
More Educational Resources