Nursing Scholarships for High School Graduates
Get a Stable Career Helping Others with Room for Advancement
There is a great demand for trained nurses, which is only expected to increase as the population ages. As that demand accelerates, the terms of scholarship aid offered to nursing students becomes more favorable, in an effort to lure students into the profession. Financial assistance is available for high school seniors or graduates interested in pursuing this field of study.
Government Scholarships
The military has established several scholarship programs that include college education in nursing.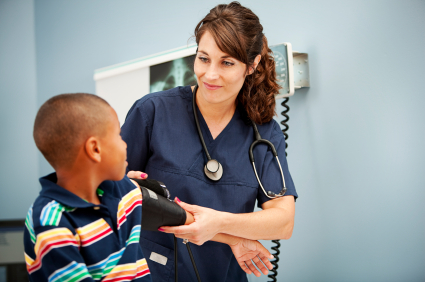 Army ROTC
ROTC stands for Reserve Officers' Training Corps, and the military supports prospective army officers through their college educations in exchange for service by way of the ROTC program. As a nursing student, you'll receive special treatment, working closely with a mentor who assists in your training. You can apply for undergraduate scholarship aid lasting between two and four years, and while the link takes you to the high school graduates page there are other scholarships available for students already in college.
NROTC
The N stands for Navy, and the Navy's ROTC program offers a nursing track leading to a bachelors degree. You must attend a school that is affiliated with the NROTC, which means its nursing degree program has been preapproved, and in addition to your nursing courses you will take three classes (Introduction to Naval Science, Seapower and Maritime Affairs, and Leadership and Management I and II).
Your scholarship will pay full tuition, school fees, textbook allowance, and give you a stipend to live on.
AFROTC
The Air Force's ROTC program also provides a nursing option, with an interesting scholarship award process: applicants list their top choices of majors, and AFROTC sends you a scholarship offer based on its own needs for trained personnel. Nursing majors are eligible for what AFROTC calls a nontechnical scholarship, and after a certain point in college you'll compete with other applicants to choose your favorite specialization. Alternatively, the Air Force will assign you a particular specialty when you become an officer.
Health Resources and Services Administration
The Health Resources and Services Administration's NURSE Corps Scholarship Program was designed to give nursing students money for college in exchange for an agreement to work where needed after obtaining a degree (that is, in a Health Professional Shortage Area facility). Funding includes tuition, fees, books, and a living stipend, and after graduation you'll work for at least two years, depending on the length of time you received assistance, in an assigned facility.
The most recently posted monthly stipend amount is $1,289.
Scholarships From Colleges
Nursing education is costly, but due to the great need for nurses it also receives a proportional share of financial aid. Every school with a nursing program provides some scholarship assistance, and the following information is a good example of the aid available at different schools.
Vanderbilt University
The School of Nursing at Vanderbilt University has posted a lengthy page of information on its scholarships. Here are the three named scholarships that pay full tuition:
The Harold Stirling Vanderbilt Scholarship extends for three semesters, and is awarded for academic performance rather than financial need.
The Julia Hereford Alumni Scholarship hands out applications to students who meet its criteria, rather than accepting applications in the usual way.
The C. W. Kempkau Scholarship goes to a freshman pre-specialty student with a strong academic history.
In addition, Vanderbilt lists 22 partial nursing scholarships.
Georgia State University
Georgia State University's Byrdine F. Lewis School of Nursing also has a long list of scholarships for its students. Here are three examples of what you will find:
The Marshall L. Bowie CHHS Scholarship hands out two awards of $2,000 each every year to full-time students, based on their grades, financial need, community service, and involvement with the school.
The Dr. Cennette Jackson Nursing Scholarship is reserved for financially needy undergraduates who are noted for their kindness, sense of fair play, respectfulness, and ability to work well with others.
The Merle Kennon Lott Scholarship gives three awards every year to financially needy students interested in public or community health nursing.
Scholarships From Private Organizations
Daughters of the American Revolution
The National Society of the Daughters of the American Revolution (DAR) distributes three named scholarships for nursing students, all one-time awards for $1,000 each. The Caroline E. Holt Nursing Scholarship requires financial need, the Mildred Nutting Nursing Scholarship gives preference to students from Lowell, Massachusetts, and the Occupational/Physical Therapy Scholarship supports student therapists who can demonstrate financial need.
Different DAR chapters also offer nursing scholarships. For example, the Virginia chapter's award goes to a graduating high school senior who will attend school in Virginia, and the Pennsylvania chapter underwrites the Louise V. Nelson Nursing Scholarship for Pennsylvania students. All the DAR scholarships specify enrollment in an accredited nursing school.
Akron General Medical Center
The demand for nurses is so steady that many local hospitals offer scholarship aid in the hope of training new employees. The Akron General Medical Center's Service League Nursing Scholarship goes to a student seeking a bachelors degree in Ohio who has a 3.0 GPA, and financial need is a requirement.
Children's Healthcare of Atlanta
Children's Healthcare of Atlanta encourages nursing students by providing the Occupations Scholarship for graduating high school seniors who have a 2.8 GPA and can supply two reference letters. Semi-finalists may be given an interview, and you must be a member of the Georgia HOSA (Health Occupations Students of America) to apply.
Nursing Degree Levels
Specialties
Browse Scholarships
Resources
More Educational Resources