Community Health Nursing Scholarships
Worthwhile Work in the Public Sector
Community health nursing, which is very similar to public health nursing, is a specialty that involves providing care to an entire community (a city, county, or other district population). Your duties as a community health nurse will include case management, follow-up home care, education on topics such as child care and preventive health measures, identifying risks to the health of the community you serve, and related tasks.
One way to distinguish between community health nursing and public health nursing is by employer: does the nurse serve a community by working for a government health agency? That is usually identified as public health nursing. A nurse performing the same function while employed by a public school or nonprofit clinic, in contrast, would usually be called a community health nurse.
You'll sometimes give primary care and sometimes work as a practical nurse. A daily round might include immunizing children at a primary school, visiting bedridden patients, screening patients for glaucoma, and hosting a presentation on how to recognize early symptoms of cancer.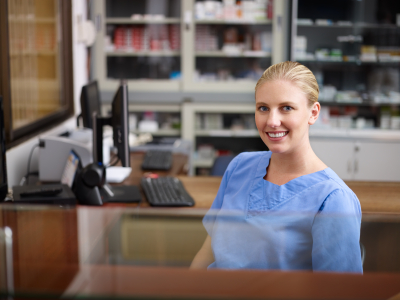 Government Scholarships
The Health Resources and Services Administration, which is a division of the U.S. Department of Health and Human Services, offers financial aid with a service requirement in its Nursing Scholarship Program (NSP), and the agencies where you'll be asked to work after graduation are ideal settings for a community health nurse to begin practice. They include Medicare/Medicaid hospitals, public health service centers, state and local health departments, facilities for indigenous populations like Native Hawaiians, and rural health units.
The NSP pays for tuition and fees, other reasonable costs, and a stipend of $1,289 per month (in 2012) for living expenses. There is a maximum of four years of government support. Accepting one year of support incurs two years of service, and thereafter the length of required service matches the number of supported years.
College Scholarships
Delta State University, Robert E. Smith School of Nursing
Senior students in Delta State University's Robert E. Smith School of Nursing who plan graduate study or future employment in the field of community health are eligible for the Arlene Ward Bradshaw Community Health Nursing Award. Applicants must have made some practical demonstration of their grasp of community health nursing, and preference goes to students from Mississippi Public Health District III.
Wayne State University, College of Nursing
Wayne State University's College of Nursing administers the Bertine Fair Endowed Scholarship in Community Health Nursing, which brings $1,000 in funding. The award goes to a student who has achieved academic excellence and showed commitment to the field of community health nursing. Applicants must be graduate students.
Georgia State University, Byrdine F. Lewis School of Nursing
The Byrdine F. Lewis School of Nursing at Georgia State University sponsors the Merle Kennon Lott Scholarship Program, which hands out three awards to financially needy students interested in either public health or community health nursing. Three different sets of criteria apply: the first award goes to an undergraduate RN to MS student, the second to a public health or primary care student in the masters program, and the third to a doctoral candidate to fund a dissertation.
University of Medicine and Dentistry of New Jersey, School of Nursing
The University of Medicine and Dentistry of New Jersey's School of Nursing manages the Marcia Granucci Memorial Nursing Scholarship Fund for graduate students in several concentrations, including community health nursing. Applicants must be New Jersey residents holding current nursing licenses, and the scholarship is for up to $2,000 per year. It is renewable.
University of Iowa, College of Nursing
Students enrolled in the Community Health Nursing MSN program at the University of Iowa's College of Nursing can apply for the Zenobia Tams Gibson Memorial Award. Those with a BSN from the College of Nursing will receive preference.
Private Funding
The VNA Foundation Scholarships go to students in one of two programs, the Accelerated Bachelor of Science in Nursing program at Loyola University (Neihoff School of Nursing) or the Generalist Entry Master of Science in Nursing program at Rush University (College of Nursing). Scholarship recipients must agree to work in the field of community health nursing in the Chicago area for a period of two years after graduation.
The NAU Foundation, which raises funds for scholarships at Northern Arizona University, lists the Betty C. Gendler Nursing Scholarship as one of its advancement awards. The Gendler goes to minority students with financial need, and preference goes to students who plan to work in community clinics where patients' culture, language, and race present barriers. You may contact the foundation directly for more details.
Nursing Degree Levels
Specialties
Browse Scholarships
Resources
More Educational Resources