Advanced Practice Nursing Scholarships
Work at a Higher Level with More Autonomy
To become an advanced practice nurse (APN), you must first obtain your registered nurse's (RN) license by passing a national examination. The three educational paths to RN licensing are the associate degree, bachelors degree, or diploma from an accredited nursing school. APNs are usually certified in a nursing specialty like pediatric endocrinology, or they hold credentials like certified nurse midwife and psychiatric nurse practitioner.
As an APN, you will have advanced nursing education that permits you to work independently. You'll be expected to make informed judgements about patients' health, produce care plans, and manage cases. As the shortage of primary care physicians increases, nurses will be expected to step into roles with more responsibility, and the pay scale grows with that responsibility.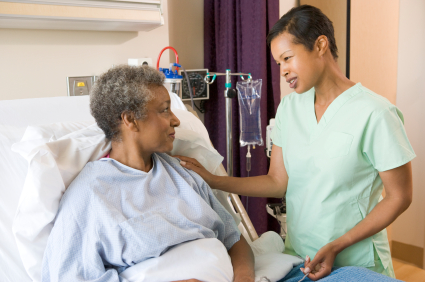 Scholarships From Colleges
University of California (San Francisco)
The School of Nursing belonging to the University of California (San Francisco) has posted a page of scholarships, and here are three of those suited to aspiring APNs:
The Professional Nurse Scholarship/Traineeship is designed for nurses seeking advanced degrees, either masters or doctorates. Recipients are given $500 each month for between one and three quarters, and the scholarship is renewable on an annual basis. You must have an RN license.
The Alex Anagnos Scholarship, for $8,000, goes to a student who has made a commitment to help underserved populations. Men and those specializing in mental health care receive preference.
The Dr. Kathleen Puntillo Critical Care/Trauma Scholarship supports a masters or doctoral candidate with a good academic record and, if you are in a masters program, a RN license.
Purdue University
The School of Nursing at Purdue University offers two scholarships tailored to future APNs:
The Linda Rohrman Mental Health Promotion Scholarship is awarded to a senior who will attend graduate school to become a pediatric nurse practitioner with a subspecialty in mental health.
The Esther McConnaughay Trust Graduate Oncology Nursing Scholarship goes to a masters or doctoral student specializing in oncology.
Vanderbilt University
The School of Nursing at Vanderbilt University maintains a page of information on its scholarships, including these partial scholarships especially for APN students:
The Lillian Cary Scholarship is given to a masters student in the Family Nurse Practitioner program.
The Jennie Wamsley Long Memorial Scholarship goes to a student in the Family Psychiatric-Mental Health Nurse Practitioner specialty. Applicants must demonstrate financial need.
The Frances Phillips Ward Scholarship goes to an acute care student, preferably one focusing on oncology.
Scholarships From Private Organizations
Lakeland Medical Center (St. Joseph, MI)
If you are a RN employed or volunteering at Lakeland Medical Center and you're interested in APN studies, the Allan and Vera Buckalew Memorial Nursing Scholarship was designed to help you finish your education. You must be a high academic achiever with a GPA of 3.0, and submit transcripts and two reference letters with your application.
Nurse Practitioner Healthcare Foundation
The Nurse Practitioner Healthcare Foundation offers four scholarships to nurse practitioner graduate students, and here is a list:
The NPHF/Procter & Gamble Endowed Scholarship in Gastroenterology for $1,000 goes to a gastroenterology student.
The NPHF/Procter & Gamble Endowed Scholarship in Community Service, also for $1,000, is given to a student who is noted for personal contributions at school or in the external community.
The NPHF/Purdue Pharma L.P. Pain Management Awards, five in number, are distributed to students whose research involves pain management. At the outset, each recipient gets $3,500, and an extra $1,500 is given upon completion.
The NPHF/Astellas Heart Health Through the Ages Award Program hands out six awards at the beginning ($2,500 each) and end ($1,000 each) of selected student research projects that concerns cardiovascular health.
American Cancer Society
The American Cancer Society offers two types of scholarships for advanced studies in oncology nursing, one for graduate students and another for doctoral candidates. The scholarships are worth between $10,000 and $15,000 a year.
Association of periOperative Registered Nurses Foundation
The Association of periOperative Registered Nurses Foundation supports RNs who are pursuing either undergraduate or graduate degrees in perioperative (surgical) nursing. Your enthusiasm and experience will be considered, and you must have a GPA of 3.0 to apply for this scholarship.
Illinois Farm Bureau
The Illinois Farm Bureau approaches the problem of scarce health care in rural areas through the Rural Nurse Practitioner Scholarship Program, which offers $4,000 to RNs who return to school to become nurse practitioners. When the recipients graduate, they are expected to work for two years in a rural community.
Nursing Degree Levels
Specialties
Browse Scholarships
Resources
More Educational Resources