Industrial Engineering Scholarships
Design, Analyze and Manage Industrial Systems
Industrial Engineering is a field of study geared towards a job market that is practical, challenging, and not likely to go out of style anytime soon since industrial engineers are the problem solvers of society. If you choose to devote yourself to this academic program, you as an Industrial Engineer may specialize in designing, analyzing and managing production systems and/or manufacturing processes, including field components related to technology, finance and budgeting, and human resources.
Students dedicated to the pursuit of Industrial Engineering as their undergraduate or graduate career will receive a very solid foundation of general engineering courses that include extensive science and math. The major's longer term aim once the student gets past the fundamental courses is to prepare individuals to engage themselves in manufacturing and industry at both entry-level and management positions.
There is a higher and higher demand for the skilled technicians and knowledgeable directors that Industrial Engineering programs produce. Likewise, there is plenty of scholarship funding, from both private colleges and professional organizations, dedicated to helping future industrial engineers, particularly minorities, get through college.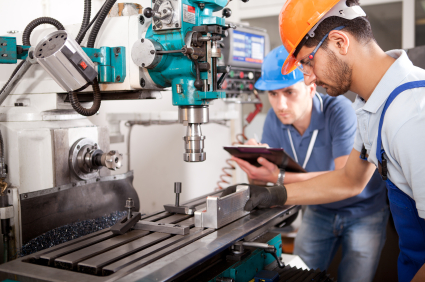 College Scholarships
Nearly any school that houses an Engineering department which includes the specific realm of industrial engineering will offer students some type of scholarship opportunity. See below for some of the best this country has to offer.
University of Washington College of Engineering
The Ron Crockett Scholarship Fund is a huge leg-up to those incoming undergraduate freshman desiring to engage themselves in industrial engineering at the University of Washington. The award provides tuition discounts for the most outstanding students each year who apply to the College of Engineering. Students who receive the Ron Crockett Fund are necessarily the cream of their crop, and will want to get their applications in by April 1 to be eligible for the award.
Florida International University College of Engineering and Computing
From the Florida International University College of Engineering and Computing come quite a number of scholarship opportunities for students in the Industrial and Systems Engineering program. Contact FIU for more information on how to apply for these.
Sergio Martinez Scholarship is available to students in at least their junior year of the program. This award is based on financial need and academic merit.
Leonard Kaufman Scholarship is awarded to upper level industrial engineering students with at least a 3.0 GPA. There is up to $1,000 available.
Assurant Group Scholarship is awarded to IE students with at least a 3.0 GPA, already in their junior year of studies, and those who demonstrate financial need.
Randal Nida/Cordis Corporation Scholarship goes to academically talented undergrads. There is up to $1,000 available.
CSEMS Scholarship is not based on academic merit as much as pure financial need. There is over $3,000 available.
Southern Gear and Machine Inc. Scholarship is provided for students in any year of study. Criteria include residency in Dade County, Florida, financial need, and academic talent.
Texas Tech University College of Engineering
Texas Tech University Edward E. Whitacre College of Engineering maintains a list of over two-dozen generous endowed scholarships all directly suited to Industrial Engineering students. Students are awarded funds based on their personal criteria provided during the admission process, so you will need to apply as soon as possible to see what your funding package might look like.
Virginia Tech College of Engineering
The undergraduate program in industrial engineering located at Virginia Tech is home to more than a dozen scholarships just for its most needy and promising students. The process looks like this: students will apply generally to the College of Engineering for scholarship need, and then their applications will be forwarded on to the Department of Industrial and Systems Engineering where they will be considered for their academics and their demonstrated need. The majority of the awards are given to entering freshman only; however, there are also a couple available to transfer students, such as the $1000 Padis Scholarship given to a student pursuing an Associates degree in industrial engineering.
Scholarships from Independent Associations
Beyond private college funds, a couple of independent associations – in this case, a professional organization and a key company in the field – also sponsor a number of scholarships for industrial engineers.
Institute of Industrial Engineers
Scholarships from the Institute of Industrial Engineers are open to student members only. Membership is definitely a worthwhile pursuit for any serious industrial engineer who plans to make their career in the field, not only for its scholarship opportunities but also for its other resources and professional notoriety. The organization is home to many scholarships, including, but not limited to, the following:
Undergraduate students with at least a GPA of 3.4 may qualify for IIE's scholarships. Up to $4,000 is up for grabs each year. Those with demonstrated leadership abilities and involvement in associated activities may receive preference.
Two graduate fellowships funded by the IIE include the Graduate Research Award and the Pritsker Doctoral Dissertation Award.
A.O. Putnam Memorial Scholarship is available to industrial engineering students studying anywhere in the U.S. Eligible applicants are chosen based on academic and financial need as well as an emphasis on management in the major. The award amount is $600.
$1,000 is available in the Marcus Scholarship. Eligible students will demonstrate academic talent as well as an ability to effect change in the field.
ASCO Numatics
The ASCO Numatics Industrial Automation 2012 Engineering College Scholarships are sponsored by the Emerson company, who has been a key player in the industry for over a century. Two of these $5000 awards, plus a few grants for $1000, are given annually to students who are pursuing research and careers in industrial engineering as it pertains to automation. Leadership, past and future contribution and potential, and academic merit are all considered in the awarding of this opportunity, and especially excellent students may even be offered an internship with the company.
Scholarships for Minorities
National Society for Black Engineers
The National Society of Black Engineers annually sponsors a host of generous scholarship programs to student members. These awards are funded by partner corporations in the business, such as Praxair, Microsoft, and Lockheed Martin and are available to minority engineering students only. A few are designed specifically for industrial engineering students while a couple are offered as general scholarships on behalf of the NSBE. The awards for outstanding black engineers include:
GE Lloyd Trotter African American Forum Scholarships are available to a wide range of engineering students, including those in an industrial engineering major. The awards are up to $2500.
Local chapters fund an Alumni Scholars Award program for undergraduate and graduate students in the Industrial Engineering majors. $2,000 available.
Caterpillar, Inc funds a scholarship that gives IE students $2,000 toward their education.
American Indian Science and Engineering Society
The American Indian Science and Engineering Society supports the profession of Native American engineers as well as the education of next-generation engineers. It is a great resource if you fit into this specific category, and offers generous scholarships to pay for your education.
As is the case with the above scholarship, students must be society members to be considered. Scholarships available for Native American students majoring in Industrial Engineering include:
IBM Scholarships are awarded to students who can prove Native American heritage, have at least a GPA of 3.2 and are enrolled full-time. Applicants are also required to complete an essay, attach a professional resume along with letters of recommendation from faculty.
The General Motors Engineering Scholarships are open to students studying Industrial Engineering among other related majors. Eligible applicants must prove Native American heritage and have at least a 3.0 GPA to qualify. There is up to $3,000 in award money.
Great Minds in STEM
The former Hispanic Engineer National Achievement Awards Conference, now called "Great Minds in STEM", sponsors quite a few scholarships for the country's most outstanding technically-adept Hispanic students. Hispanic students majoring in engineering disciplines, including Industrial Engineering, must check out their offerings to see if they are eligible.
The award program provides dozens of monetary awards ranging from $500 to over $5,000 thanks to the financial support of corporate partners like Ford, Northrop Grumman and Shaw Industries. Applicants must demonstrate academic excellence, which is in keeping with the mission of Great Minds in STEM.
More Opportunities for Engineers
No matter what your background or how far you desire to take your industrial engineering education, you may find some financial aid above that suits your needs. Remember also to check with the financial aid office of the schools and colleges you are considering to see what further scholarships or grants they may be able to offer you, like the numerous award listings of Florida International University or Texas Tech.
When applying for scholarships for your industrial engineering education, it is important to be clear and intentional in your plans for your engineering degree. Set yourself apart by having a well-defined plan of action for the specialization of your studies as well as your after college career plans, and you will have a good shot at one of these awards. For example, a professional organization like the Institute for Industrial Engineers will want to hear exactly what your interest in industry is, and will likely be open to suggestions or ideas for progress in the advancement of engineering.
Engineering Scholarships
Browse Scholarships
Resources
More Educational Resources