Creative Writing Scholarships
Compete with Other Writers for Generous Awards
Writing is a fundamental skill that is required for successful employment in a wide range of professions. Writers work in business, communications, human resources, information technology, media and a host of other industries. Talented writers land help paying for college, so use your writing abilities to ease the financial burden of higher education, especially if you are majoring in journalism or related fields.
Scholarships and grants arise from individual campus writing departments, and private sector benefactors committed to education. Your campus financial aid office is the best source for current program information for writers. Use these examples to help identify financial aid channels, and open doors to college funding assistance.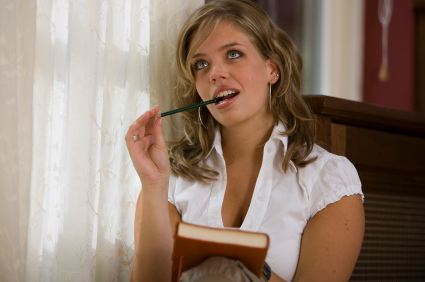 College-Specific Scholarships for Creative Writers
The Department of English at Arkansas Tech University awards six annual scholarships worth $1,500 each. These scholarships may be used to pursue any degree program at the university, and any high school senior is eligible. To enter; send a poem, a group of poems, a short story, or a piece of dramatic writing. The school's Gwaltney Scholarship recognizes outstanding applicants with one-time awards acknowledging excellent fiction.
Lake Forest College in Chicago, Illinois, distributes Carnegie Writing Scholarships to worthy applicants. The award amounts range between $1,000-$5,000 per academic year. Grade point standards are enforced for candidates, and each successful applicant works on the staff of a campus publication. To apply, submit a portfolio of your writing.
Coe College in Cedar Rapids, Iowa offers two writing scholarships:
One Writing Scholarship awards $1,000 to each applicant who submits a winning portfolio. Your entry should include your best essays, poetry and non-fiction.
The Writing Center Fellowship gives students $1,000 a year, for up to four years. To qualify for the scholarship, applicants agree to participate in the Writing Center, which is a collective effort to raise skills and standards among college-level writers.
Artistic Achievement Scholarships are available to creative writers attending Eckerd College in St Petersburg, FL. Qualified applicants send no more than four poems or one short story, to be evaluated by the scholarship committee. Students submitting drama, screenplay, or non-fiction, works, are instructed to send no more than eight pages.
Center of Excellence for the Creative Arts at Austin Peay State University in Clarksville, TN offers scholarships to undergraduate creative writing students. High school seniors and current university students must have at least a 2.5 GPA to qualify.
The University of Louisville in Louisville, KY offers creative writing scholarships for undergraduate and graduate students. CW Scholarships provide varying levels of tuition reimbursement based on writing samples reviewed by the Creative Writing Scholarship Selection Committee. The program is an excellent opportunity for non-English majors who are skilled writers, because participants are drawn from all academic departments. To compete for creative writing scholarships, submit the following materials:
A cover letter.
A sample of your work such as 1-2 short stories, 5-10 poems or a combination of both.
A letter of recommendation commenting on your writing.
Private Scholarships for Writers
The Freedom Forum is committed to maintaining free speech and expression. The organization uses its platform to help promising journalism students advance through higher education. Free Spirit Scholarships are designated for high school seniors with journalistic aptitude. Each winner is hosted at an annual Washington D.C. Conference that provides networking opportunities for creative writers.
The Alliance For Young Writers and Artists recognizes creative high school students. Students submit work in the following categories:
Dramatic Script
General Writing Portfolio
Humor
Journalism
Nonfiction Portfolio
Novel
Personal Essay/Memoir
Poetry
Science Fiction/Fantasy
Short Story
Short Short Story
Entrants compete for regional recognition and advancement to nation competitions. National medalists are eligible for over $250,000 worth of scholarship assistance annually, which is made possible through hundreds of partnerships with private and public benefactors. Use the Alliance Scholastic Art and Writing Awards to open scholarship doors for college.
The Santa Barbara Foundation offers Creative Writing Scholarships for students who demonstrate exceptional writing abilities. The program is centered around Santa Barbara County residents, so qualified applicants are those who completed at least four of six secondary school years in the County. Eligible candidates are graduates of S.B. County high schools.
The National Press Club takes an active role in promoting future journalistic excellence. To educate emerging generations of creative writers, the Club grants the Richard Zimmerman Scholarship award annually. Winners are chosen based on outstanding writing samples they submit, as well as strong community involvement, diverse interests, and scholastic activities.
Arts and Humanities
Browse Scholarships
Resources
More Educational Resources