Music Education Scholarships
Show Off Your Talents: Go Head to Head with the Best in Large or Small Music Programs
There are a great number of scholarships available for student musicians, not only paying education costs but also providing opportunities to attend music camps or perform abroad with prestigious groups. Every type of musical talent is supported, and there is also a scholarship that underwrites research in musicology.
The following information should not be considered a complete listing, but it's a good general overview of the aid available for student musicians.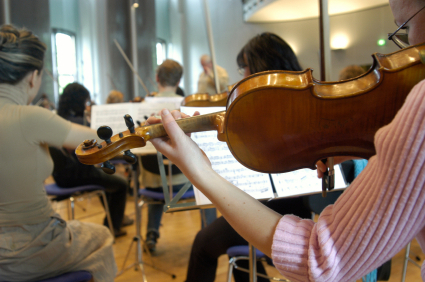 Scholarships From Private Organizations
Young Musicians Foundation
The Young Musicians Foundation hands out cash scholarships to musicians between the ages of 8 and 26 to help pay the costs of attending music camps, schools, or festivals, or studying with private teachers. You must show great talent, prove your financial need, and residence in Southern California is required. Singers must be at least 12, and those who play instruments must apply before finishing the senior year of high school.
You must first submit a recording, and then compete at a live performance. There is an application fee of $25, and while that is normally a red flag in seeking scholarships, the foundation is a reputable organization of long standing.
The Opera Foundation
The Opera Foundation's scholarships consist of singing engagements at world-renowned opera houses in Europe (the Deutsche Oper Berlin, Bayerische Staatsoper, and Teatro Regio Torino). The importance of this opportunity to your future career cannot be overstated.
When you compete for one scholarship, you compete for all three, and you cannot choose among them. Your award includes travel expenses of between $13,000 and $16,000 plus a monthly stipend of between 700 and 1,000 euros from the opera houses. You must be a U. S. citizen or permanent resident between 18 and 30 to apply.
BMI Foundation
The BMI Foundation has posted a long list of scholarships available for students who are either musicians or musicologists. Here are some examples of the proffered financial assistance:
The Woody Guthrie Fellowship Program supports those who are studying Guthrie's life and work. A $5,000 award supports one student's research at the Woody Guthrie Archives, and your project may focus on his creative output, influence on American culture and history, or personal philosophy.
The Women's Music Commission award, also for $5,000, subsidizes a new musical effort by a female composer between 20 and 30 years old, and the BMI Music Foundation supplies the performers or musicians necessary to present that new piece.
The Lionel Newman Conducting Scholarship is for students who are classical conductors, and the winner will work for three years with the Los Angeles Young Musicians Foundation Debut Orchestra.
The Evelyn Buckstein Scholarship (one or two awards per year) provides full tuition to City College of New York. Applicants must plan professional careers in songwriting, composition, performance, or musical education.
ASCAP Foundation
The ASCAP Foundation also offers numerous scholarships, and its grants have their own separate page. Here are some of ASCAP's options:
The Vic Mizzy Scholarship goes to a graduate student studying scoring for movies and television at the Steinhardt School (New York University).
The Charlotte V. Bergen Scholarship is given to a student for education at an accredited school or conservatory of music.
The Louis Armstrong Scholarship Honoring W.C. Handy is awarded to a student enrolled at Mt. Vernon High School who excels in musical performance and composition.
The John Denver Music Scholarships Supported By BMG Chrysalis provide talented, financially needy student musicians between 10 and 16 with full tuition to the Perry-Mansfield Performing Arts School and Camp.
Liederkranz Foundation
The Liederkranz Foundation sponsors a competition for vocalists, with three categories of award bringing anywhere from $1,500 to approximately $8,000. Each category has its own requirements for age, number of arias sung, and type of music, as follows:
General Opera Division (20-35 years old): five arias in three languages, one of which may come from operetta or zarzuela music.
Wagner Division (25-45 years old): five arias, four by Wagner himself.
The Lieder/Art Song Division (18-30 years old): five art songs (a sixth is optional) for a singer with keyboard accompaniment.
The Liederkranz competition charges a $60 fee to apply.
Scholarships From Colleges
Every music department offers some sort of financial aid, and the following is a small sample.
University of South Carolina
The School of Music at the University of South Carolina provides scholarships for about two-thirds of its majors. It is quite simple to apply: just audition to receive automatic consideration. If you are an out-of-state student and you receive a scholarship from the School of Music, that entitles you to a large reduction in your out-of-state tuition and fees, if your grades are satisfactory.
University of Iowa
The University of Iowa's School of Music follows the same procedure by screening scholarship applicants at the time of their auditions. There is one named scholarship reserved for music majors for two years out of every four, the Adelaide Boerner Trickey Scholarship, and a number of general scholarships for students in the College of Liberal Arts and Sciences.
Aspen Music Festival and School
The Aspen Music Festival and School hands out scholarships based on musical talent and financial need. Resident assistantships and fellowships are also available.
Arts and Humanities
Browse Scholarships
Resources
More Educational Resources