Film Student Scholarships
Make Your Indy Film Hobby a Reality
Film production education encompasses a series of disciplines that leads to work as directors, cinematographers and screenwriters, but a host of other film-related careers emerge from film studies programs nationwide. Positions essential to the industry are filled by college-educated professionals, in areas like costuming, special effects, editing, film scoring, production and even marketing.
Various sources put-forth educational funding opportunities for film students, including industry associations, philanthropic foundations, and corporate sponsors with interests in the film business. Individual colleges support their own academic programs with financial aid that is reserved for film studies. Campus-specific resources are best explored with department representatives and financial aid professionals at your school.
Certain student groups, like women and minorities, glean scholarship assistance from advocacy groups that are dedicated to increasing access to higher education.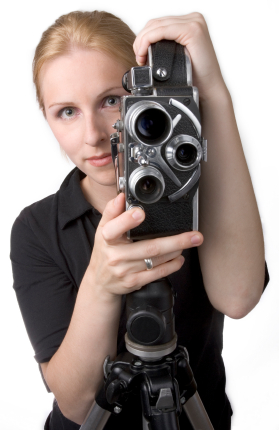 The following examples illustrate the types of scholarships initiated specifically for film students.
Scholarship Programs
Women tackling film school benefit from the efforts of organizations like Women in Film. This notable non-profit dedicates itself to women's pursuits in all areas of the film industry. Women in Film is instrumental in funding professional projects and supporting film education among women. Women in Film Foundation Scholarships are extremely competitive, so application is not opened up to the general public. Instead, the organization works with faculty of college film and television departments to distribute awards. Film education professionals are tasked to nominate worthy candidates and encourage participation among members of accredited MFA programs. Scholarships are applied to film, television, communications and media studies. The organizations philanthropy is centered in Southern California, the home of the entertainment industry. Several film schools near L.A. and other parts of California participate in the program, which evaluates students based on three criteria:
Academic Merit
Financial Need
Artistic Achievement
The fraternal organization, Phi Delta Theta, offers a very attractive scholarship for film-making students – and application is open to non-members, as well as members. The Francis D. Lyon Scholarship for Film Students honors Mr. Lyon, who was an academy award winning Hollywood trailblazer. The Phi Delta Theta Foundation administers the scholarship fund, established in 1996, which distributes annual scholarships worth $2500 each.
The American Film Institute is one of the premier organizations operating in the film industry. The AFI Conservatory provides competitive education for students seeking film studies immersion. The conservatory's authentic film production environment fosters creative collaboration and innovation. Some financial aid is available for incoming and current fellows at the institution, and returning fellows may qualify for even higher levels of assistance. First year students are eligible to apply for funding, which is awarded and used during each students second year in the program. The AFI Awards Committee, and in some cases donors themselves, contribute to the applicant review process at the Conservatory.
The Screen Actors Guild Foundation represents the professional organization responsible for uniting and supporting professional screen actors. The Foundation funds John Dales Scholarships, which are responsible for distributing over six-million dollars worth of educational assistance over the past 40 years. SAG members and their children are eligible to apply for scholarships, which vary in number and value annually, according to available funding.
Kodak sponsors scholarships for student filmmakers, who benefit from two distinct programs:
Kodak Student Scholarships are awarded based on filmmaking potential, academic performance, and the quality of submitted samples. Artistic analysis evaluates interpretation, expression and visual imagery. Application for fall-semester funding closes in mid-May each year. Graduate and undergraduate candidates are encouraged to apply for awards that are disbursed on a sliding scale:
Gold – $4000
Silver – $3000
Bronze – $2000
Filmmaking industry professionals are included in the candidate review process.
Kodak Student Cinematography Scholarship Awards are earned solely based on filmmaking abilities. Completed works submitted by applicants are evaluated by world-class filmmakers, who choose annual cinematography scholarship winners
Campus-Specific Resources For Film Students
The University of Colorado-Boulder hosts a reputable, award-winning Film Studies program. Boulder students are regularly chosen to receive Sundance Institute Internships. Qualified applicants also earn University Research Grants, which assist with costs for student filmmaking projects.
University of North Carolina Wilmington offers scholarships through its film studies department. Frank Capra Jr. Film Studies Scholarships recognize Mr. Capra's important role in the NC film industry. Full-time Wilmington students who have reached their final two-years in a film program are eligile to compete for Capra Awards, which contribute $1000 each, toward tuition expenses. A 3.5 GPA in all film-related courses is required to apply.
UNCW also puts forth the Sophia Grace David Film Studies Scholarship for applicants maintaining GPA standards of at least 3.0. Qualified applicants are strongly committed to community affairs, volunteer efforts and other forms of public service.
Arts and Humanities
Browse Scholarships
Resources
More Educational Resources