Grants for Married Students
Another Benefit of Marriage?
Married students represent a small, but growing, percentage of the national collegiate student body. Married college students fall into several different categories. Some may be young students who have married early, either before entering college or during their first years at school. Others may be returning students whose college careers were interrupted, either by choice or necessity.
The largest group of married college students consists of adult learners who are enrolling in college to obtain the training they need to improve their job prospects in an ever changing workforce. These may be first time college students who postponed their post-secondary education in favor of a career and family. They may just as easily be degree holders who are returning to college to make themselves more competitive in their chosen profession. Whatever category they fall into, married college students have one thing in common with their unmarried counterparts – the need for financial assistance.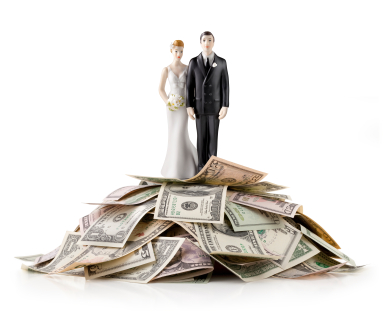 Fortunately, there are a variety of grants and scholarships available that have been designed to address the financial needs of married college students.
Financial aid for married college students is available from a wide range of sources, including:
Federal and state governments
Colleges and universities
Private organizations
Advocacy groups that promote the education and advancement of minorities and women
Married College Students and The FAFSA
Before applying for any grants or scholarships, students must first fill out and submit the Free Application for Federal Student Aid . The FAFSA is used to determine the student's eligibility for all Federal and state supported financial aid. It is also used by colleges and universities, as well as by most private grant and scholarship review boards, to determine eligibility and award amounts. Once the FAFSA has been submitted, students will receive their Student Aid Report, which will outline the levels of financial aid for which they have qualified. All students, whether married or single, need to make the FAFSA a priority in their search for college funding.
The major difference in a married college student's FAFSA is the reported income and assets. Married students, regardless of age, can no longer be considered dependents, so any award eligibility will be determined by the total combined income and assets of the student and their spouse. This may have an impact on the student's eligibility for some grants and scholarships, but does not entirely preclude the possibility of financial aid. Before assuming an ineligibility for any financial assistance, married students should fill out and submit the FAFSA, and await their Student Aid Report for details on the financial aid opportunities that may be open to them.
Government Grants for Married College Students
The first stop on the search for college grants is the Federal government. Whether married or single, all students should investigate what the U.S. Department of Education has to offer in the way of financial aid before turning to other sources of college funding. The majority of government funded financial aid for college students is determined on the basis of financial need, and will be available to all students, married or single, who meet the stated eligibility requirements.
Married students will want to investigate the following Federally funded college grant programs.
The Federal Pell Grant – The Pell grant is available to all undergraduate students who can demonstrate the requisite level of financial need. For married students, eligibility for the Pell grant will be determined by the combined income and assets of the applying student and their spouse. Award amounts are determined by financial need, cost of attendance, and the applicant's status as a full or part time student. The maximum annual award allowance is $5,500.
The Federal Supplemental Educational Opportunity Grant – The FSEOG is offered to undergraduates who have qualified for a Pell grant, but are still left with significant unmet need. The FSEOG is administered through participating colleges and universities, and students must apply through their school's office of financial aid. Award amounts are determined by financial need, cost of attendance, and availability of funds. Qualifying students may receive between $100 and $4000 depending upon their circumstances.
The Federal TEACH Grant – The TEACH grant is a subject-specific specific award that is available to undergraduate and graduate students who are pursuing a career in teaching. It is also an award-for-service program, and recipients of the TEACH grant must agree to take a teaching position in a critical need facility or at-risk community following graduation and certification. Applicants must meet the basic eligibility requirements for all Federal financial aid programs, and must be enrolled in an accredited college or university that participates in the TEACH program. Applicants must also meet certain academic achievement requirements in order to qualify. The maximum annual award amount is $4000.
Grants from Colleges and Universities
Colleges and universities routinely offer grants and scholarships as a way to attract a diverse student body to their campuses. Many colleges offer grants and scholarships for non-traditional students, including adult learners, married students, and students with children. These financial aid opportunities vary greatly between schools, and students should contact the financial aid offices at their college of choice to find out if there are existing grants or scholarships that may help them pay for college.
The following are examples of campus-based grant programs that may be applicable to married students.
Indiana University East offers a wide range of scholarships and grants for its attending students. Among IUE's financial aid programs are two that apply most specifically to married students. The Antonio Ochoa Memorial Scholarship is offered to returning students who can demonstrate the requisite amount of financial need. Preference is given to single parents, and students returning to school to complete an interrupted degree. The Lingle Family Scholarship is available to students enrolled in one of IUE's Adult Re-entry Programs.
Agnes Scott College is a school for women dedicated to empowering and enriching the lives of American women through education. ASC offers the Irene K. Woodruff Program for Non-Traditional Students which provides financial assistance to students who are at least 24 years old, and are married or single with dependents. Award amounts vary according to academic achievement and financial need.
Dixie State College of Utah offers the Carolyn Reinbold Scholarship for married students and students pursing degrees in health sciences. Married applicants must have an Associate's degree, or a minimum of 62 completed credit hours.
Married students should also consider their eligibility for any general scholarships or grants offered by their college of attendance. These programs do not exclude married students from applying, though they do often carry certain restrictions, such as requiring that award recipients reside on campus and are full-time students. In some instances married students who meet all other eligibility criteria can apply for exemptions from these restrictions, and gain access to further sources of college funding. Students should contact their college's office of financial aid for more information.
Grants and Scholarships from Private Organizations
Married students searching for financial aid to complete their college education will also want to investigate the grants and scholarships offered by private organizations and professional associations. The private sector is a rich source of financial aid, and many students, both married and unmarried, neglect to consider what may be available from corporations, advocacy groups and professional associations.
Many private sector grants and scholarships are designed to encourage and support students who are pursuing specific career paths. These are most typically supported by businesses and corporations as a way of developing the next generation of field professionals. Some private sector grants target women and minorities, and are dedicated to expanding and diversifying the national workforce. Whatever the guiding principle, these privately funded financial aid programs offer valuable opportunities to students looking for a way to fund their college education.
The following are typical examples of private sector grants and scholarships that may be applicable to married students.
Military Spouses and Dependents
College students who are married to active, or retired, military personnel have access to a wide range of financial aid opportunities designed to help them pay for their post-secondary education. Each branch of the United States military sponsors grants and scholarships for its enlisted personnel, their spouses, and their dependent children. Obviously these programs are only open to military families, but they do provide significant financial aid for married couples looking to continue, or complete, their college education.
Married college students face many challenges that are unique to their situation. The added responsibilities of maintaining a household, holding down a job, and raising children can make finishing college a difficult proposition. But married students should not be discouraged. With the proper grants and scholarships, couples can complete their college education and set off on a bright and productive future. Married college students who are searching for financial aid to help them complete their education will also want to refer to our sections on Non-Traditional Grants and Non-Traditional Scholarships for further information on programs which may benefit them.
Student Type
Browse Grants
Academic
Government
More Educational Resources