Court Reporting Scholarships
Choose Judicial Reporting or Captioning/CART Specialties
While Court Reporters may be counted among the most low profile players in a courtroom, their expertise is conversely perhaps the most strongly relied upon. Judicial or legal transcribers take notes and track information that reflects exact legal proceedings, and they must be flawless in their execution of this detailed and all-important writing. The fate of the defendant can depend heavily on the accuracy and proficiency of what the court reporter records. Likewise, the courtroom would not be fully functional without an exemplary and judicious professional in this demanding field. Particularly in terms of keeping correct and comprehensive courtroom data for posterity, court reporters are an essential facet of legal happenings and history.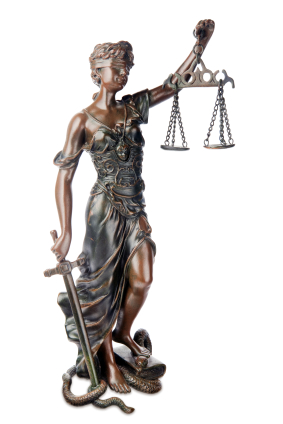 Technically, court reporters have an assortment of career accessories that greatly boost their speed and efficiency. They often work with stenographic machines or voice-activated recorders, which help them to later transcribe the proceedings as they draw from a variety of sources and mechanical witnesses. The labor requires fast-paced aptitude and dexterity, as well as outstanding language and vocabulary skills.
Graduates of the appropriate training who desire to be professional court reporters may be employed in an environment where a legal proceeding on any level must be recorded with the utmost detail, either nationally or internationally depending on language abilities. Professional court reporters may choose to work either as self-employed freelancers or as employees of the court, depending on their mode of business. Notably, those whose specialty is in Communication Access Real-time Transcription (CART) may also work in the broadcast industry where captioning for the hearing impaired is in high demand.
In their undergraduate education, they will generally choose from specialties related to judicial reporting or captioning and CART. Up and coming court reporters destined for a job in transcription will find a number of professional associations and private colleges who have scholarships set in place to support their education and help them acquire the skills needed in the modern court room.
Professional Association Scholarships
National Court Reporter's Association
The National Court Reporter's Association (NCRA) purports to "set the standard for capturing the record" and is a superb resource for students wishing to become professionals in the field. The Foundation provides student members with a handful of scholarships and awards at every level. Applicants for any of these must be members of the Foundation and be enrolled in an accredited NCRA training program:
Student Intern Scholarships are awarded to students who have been recently involved in internship programs. Applicants must have top GPAs and exude a very professional demeanor. Applicants must have at least a 3.5 GPA as well as demonstrate the ability to pass skills tests. The two awards given are between $1000 and $1500.
The New Professional Reporter Grant is $2000 awarded to a first year graduate of a program who is highly recommended by their employer. Eligible applicants are also considered based on their former academic record in combination with professional demeanor and workplace performance. The grant is intended to offset the start-up costs of the reporter's first year out of school and in the business proper.
The Frank Sarli Memorial Scholarship awards up to $2,000 to a current student in an accredited court reporting program. Qualified applicants must have top GPAs as well as winning scores in skills tests to be considered. Recipient is chosen at random from the pool of qualified candidates. Students may not apply themselves, but must instead be nominated by an instructor or school administrator.
Santo J. Aurelio Awards for Altruism are the NCRA's most well-known and generous prizes open to professionals at any level. These are given annually to those who demonstrate both philanthropy and an outstanding dedication to promoting justice in the courtroom through accurate note-taking.
In the past, the Foundation has offered the Student with a Disability Scholarship to applicants with a disability who also have a high GPA and professional demeanor. While the NCRA is not currently offering this scholarship, they may choose to honor it in upcoming years, so be sure to check with them to keep updated on the status of this award.
Colorado Association of Legal Support Staff
The Colorado Association of Legal Support Staff funds the Gwendolyn S. Duran Memorial Scholarship. Applicants may be students in a court reporting, paralegal or related program located in Colorado. Besides outstanding academic record, qualified applicants must demonstrate financial need and submit a personal essay supporting their career goals along with a letter of recommendation from faculty. Awards are $1,000.
Career Colleges and Schools of Texas Scholarships
Students in Texas interested in pursuing the field of Court Reporting may decide to enroll at one of the career or professional schools, such as the Court Reporting Institute of Dallas, which also has locations in Arlington, Virginia, St. Louis, Missouri, and via distance-learning online. Students may qualify for the uniquely designed Career Colleges and Schools of Texas Scholarships. These awards are meant to bring more students to and promote private career schools across the state of Texas. They provide over $20 million annually and are given to hundreds of students enrolled in professional programs each year. Typical awards are $1,000 per academic year, and are given out by high-school counselors to interested students.
Ohio Court Reporters Association
Student members of the Ohio Court Reporters Association may apply for the Rosalie Stevens Student Scholarship. Rosalie Stevens was known in her role as president of both the Ohio Court Reporters Association and the National Court Reporters Association, and the award serves to encourage students toward similar professional zeal and leadership. Applicants are chosen for academic excellence and passion for the field. Awards are $500.
Oregon Court Reporters Association
Like any other professional organization, the Oregon Court Reporters Association serves its members by providing them with information, organizing meetings, and supporting their training. For its student members, the OCRA additionally offers the Rose Outstanding Student Endowment Scholarship. Applicants for this prize must be members of the association and professionally committed to court reporting. Students may contact OCRA for more information on how to apply for the award.
College Scholarships
You will find in your search for undergraduate training that most court reporting programs are administered by community colleges. Programs are distinctly professional and technical in nature and often come with Certificates or Associates degrees, as opposed to traditional liberal arts programs that offer four-year degrees in majors that require a more expansive and generalized curriculum. Here is a small sampling of the programs available in training for future court reporters:
Cerritos College

The Court Reporting and Captioning Careers department of Cerritos College in Norwalk, California was recently awarded a $95,000 grant to boost its educational offerings and give its incoming students a scholarship incentive. The college is now giving out awards in the amount of $500 per semester to go towards the costs of the program's tuition and books. Academic excellence, financial need, and dedication to the field of court reporting are all factors under consideration.
Clark State Community College
Clark State Community College in Springfield, Ohio administers the Kay Frazier Court Reporting Scholarship to students pursuing programs in Judicial Reporting or Judicial Broadcasting/CART. The award is open to new students who are freshmen in the field. The academic criteria that qualify students for the prize are based on past academic performance and exemplary grades. Students may receive up to $500.
Gadsden State Community College
Students enrolled in the Court Reporting program at Gadsden State Community College in Alabama may apply for the Mary F. Lambert Court Reporting Scholarship. Winners of the scholarship will be recognized at the Honor's Day Awards and Presentations ceremony in the spring, where $200,000 is given away in prize money each year. Contact Gadsden once enrolled in the program for more information on applying.
Alvin Community College
The Karen Downey Court Reporting Scholarship is open to students enrolled in the program at Alvin Community College in Alvin, Texas who have at least a 3.0 GPA. Up to $700 a year may be awarded to outstanding full-time students, and a prorated award may be given if the student is only part-time. Students must be returning to Alvin after having completed at least one year of schooling already.
More Opportunities for Court Reporters
The writers of the courtroom are well-supported all the way from community college training programs with freshman funding for certification or Bachelor's degrees, to professional organizations that will get them financially kicked off on a career path, business cards and all. There are even educational institutions solely devoted to the endeavors of legal transcribers such as the College of Court Reporting in Hobart, Indiana, which has been providing specific and comprehensive training programs since 1984 in the form of degrees, diplomas, certificates and even "webinars" for distance learning.
The College of Court Reporting also serves as a great resource for general awards which you will not want to overlook in your hunt for transcriber-specific monies, such as the Gates Millennium Scholarship which funds 1,000 minority students to pursue the academic program of their choice. You may also always contact your state's court reporting professional association, such as the ones listed above in Ohio and Oregon, for regional or local programs, including any scholarships they may sponsor.
Law Enforcement Scholarships
Browse Scholarships
Resources
More Educational Resources