Project Management Scholarships
Learn to Interact Across the Range of Business Professionals
A project manager's job is to coordinate employees, resources, outside contractors, and computer systems in a concerted push to finish projects on time and within budget. You must be able to use practical analysis and critical thinking readily in making quick decisions, because while you personally may fall behind schedule your projects must never follow suit.
In order to manage a project, you must be skillful in managing other people and their contributions to the overall goal, meaning your ability to communicate will be vital to your success.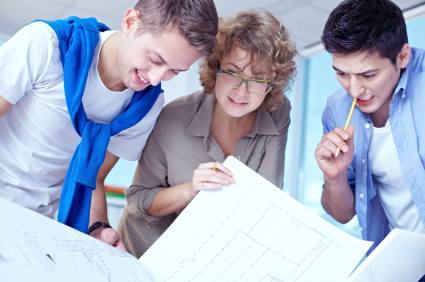 Scholarships From Private Organizations
Project Management Institute Educational Foundation
The Project Management Institute (PMI) Educational Foundation has posted a page containing a list of its scholarships, all of which are suitable for project management students. Some scholarships are specific to schools, and others can be used at any accredited institution. Examples of the specific scholarships are as follows:
The Colorado Technical University – Colorado Springs Campus Only Scholarship comes in the form of a $10,000 credit applied to tuition and distributed over the duration of the project management degree program. The required GPA is 2.5, and there are also $2,000 scholarships available for masters students at the Denver campus and online.
There are two types of PMIEF Academic Scholarship Program at UMT scholarships for students at the University of Management and Technology. One covers full tuition for graduate students and the other pays 35% of that amount for undergraduates or graduate students.
There are also scholarships that can be used anywhere, but require you to belong to a local chapter of PMI, like the Bishop/Kloch Memorial Scholarship for a member of the PMI Baltimore Chapter (or a student descended from a member), and the PMI Mass Bay Chapter Scholarship. There are even some awards, like the PMI North Carolina Chapter Scholarship, that are not reserved for members.
Scholarships From Colleges
Embry-Riddle Aeronautical University
Students majoring in project management at Embry-Riddle Aeronautical University (ERAU) can apply for University Institutional Scholarships through the university's financial aid office. The criteria vary, and amounts range from $500 to $5,000.
ERAU recommends providing as much information about yourself as possible to increase your chances of securing a scholarship. For more information, contact the financial aid office.
University of Alaska Anchorage
The University of Alaska Anchorage administers the Hawk Consultants PM Scholarship, which is given to motivated, academically capable graduate students enrolled in the university's project management program. Applicants must have a 3.0 GPA and attend at least part-time, and the award brings $2,000 per year.
Purdue University
Purdue University's College of Technology offers a masters in technology with a concentration in project management through its ProSTAR courses, which take place over the weekend and online so you can work and attend school simultaneously. The ProSTAR Scholarship Program is designed to help students from underrepresented groups who can demonstrate financial need or academic achievement, and it pays one-third of your expenses for the weekend courses.
Three students receive awards at each round, and you must maintain a 3.0 GPA to be eligible.
University of Houston
The College of Technology at the University of Houston provides numerous scholarships to support students in its Technology Project Management masters program. Here is a sample of what you will find:
The Ted R. Akin Endowed Scholarship and the Mathew P. and Leslie Watford Verghese Endowed Scholarship go to full-time students who show leadership ability, and they are worth $750 each.
The Centerpoint Energy Alumni Scholarships are for students with good scholastic records. If you are a freshman, you must have graduated in the top 10% of your high school class, and otherwise you must have a 3.0 GPA. There are several awards made each year, for a total of $6,000.
The William and Florence Fitzgibbon Memorial Scholarship ($3,500) is awarded based on academic achievement.
Schools That Supply Scholarship Information Upon Request
Some of these schools offer online degree programs and others design their project management education courses around your work schedule, so they resemble professional training schools rather than standard universities. Here are two examples of the type:
For scholarship eligibility, the University of Maryland University College requires a GPA of 2.5 and completion of 15 credits for undergraduates, and 3.0 GPA/9 credits for graduate students. The minimum current enrollment for receiving a scholarship is 3 credits.
Bellevue University's College of Science and Technology offers a project management degree program, and to apply for scholarships you must use the STARS Online system. Your academic record, reference letters, outside activities, and financial need will be considered.
CIA Undergraduate Internship Program
The Undergraduate Internship Program at the CIA invites students to work in its Facilities Support Project Management area in Washington, D.C. The full-time position pays between $38,815 and $41,033, and a thorough background check is required.
Business Scholarships
Browse Scholarships
Resources
More Educational Resources