Business Professional Study Scholarships
Win Awards for Your Business Major
Students majoring in Business position themselves well to be future professionals in today's world. Always well rounded in their studies, undergraduates will take a variety of courses such as finance, accounting, marketing, economics, and business law. As almost all colleges in America offer this degree, they also provide scholarships for their top students. Each university is unique and offers different scholarships, and below, we have provided a few examples of these scholarships.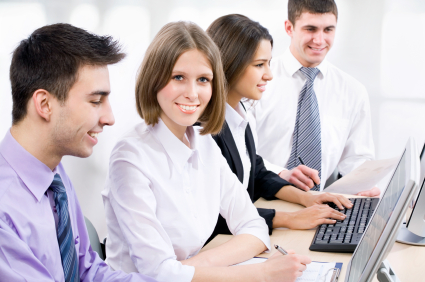 Davenport University, Donald W. Maine School of Business
Those students who attend or plan or attending the Donald Maine School of Business at Davenport University and have competed in the Business Professionals of America Program are eligible for BPA Scholarships. Students who haven't participated in the competition and are attending Davenport University are encouraged to compete. Davenport has won the contest 12 times!
Business Professionals of America is a national organization for students who are interested in the professions of business management, office administration, information technology, or any other business-related field. Each year they host a competition under 4 categories of Finance, Information Technology, Administrative Support, and Management/Marketing/Human Resources. Those who have participated in this program can apply for various scholarships such as the Nation Officer Scholarship Fund. This award recognizes the exceptional members of the program who represent leadership, service, and extraordinary involvement, which are the key components to this organization.
AmericaNorthwest Missouri State University
Northwest Missouri State University offers the Melvin D. & Valorie G. Booth Bethany Business Scholarship to those in its business school. This scholarship is awarded to incoming freshman from South Harrison High School in Bethany, MO. It awards full tuition towards students in the college of business. To be eligible, you must have a GPA of at least 2.5 and demonstrated financial need.
The Citizens Bank & Trust Scholarship is given to those with majors in Finance, Accounting, Marketing, Management, or Computer Management Systems with an interest in banking as a profession. To apply, you must be a Junior or Senior and must show academic excellence. The funds from this award go toward tuition, fees, and other college expenses.
There are many other scholarships offered to business students, and for more information visit their scholarship page.
University of Wisconsin-Eau Claire, Office of Research and Sponsored Programs
University of Wisconsin-Eau Claire's business school offers the Kell Container Corporation Scholarship for Faculty/ Student Collaborative Research. Awarded by the Kell Container Corporation, it is a premier scholarship given to a student and faculty member who are involved in collaborative research at UW-Eau Claire. This program aims to help financially support students and faculty to help facilitate creative, in-depth research, giving students hands-on research experience. Student recipients of this scholarship are given a $2,000 stipend to help pay for supplies and travel. Their faculty mentor will receive a stipend of $2,300.
To be eligible for this award, students must be either a junior or senior and have a letter of recommendation from their faculty mentor who is familiar with their research. Then they must write out their proposed research plan including objectives, project description, significance of the project, and plan for publicizing the results.
Aurora University, College of Professional Studies
Students in the Dunham School of Business at Aurora University are eligible to apply for the Dunham Scholarship. This business-specific award is for sophomores and juniors in good standing. Other than completing a special application, it is required of the students to engage in 20 hours of voluntary service to Aurora University per week.
Business Scholarships
Browse Scholarships
Resources
More Educational Resources