Organizational Leadership Scholarships
Degrees Offer Education for Tomorrow's Leaders and Managers
Organizational leadership and supervision (OLS) is a retooled and updated version of a management degree, including courses in human resources, technology, and implementing change through skillful team leadership. The OLS degree lets you move directly into a management position in a service or technology business, or a similar role in a governmental agency.
Many of your teachers will bring their experience as managers in different settings to the classroom, and they will teach you how to use the business theory you'll study in a practical way, to achieve goals like resolving conflicts, selecting and developing employees, and allocating resources successfully.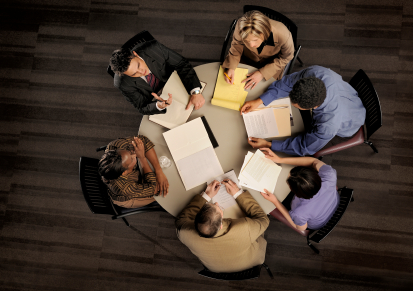 Scholarships From Colleges
Indiana University-Purdue University Indianapolis
The Purdue School of Engineering and Technology at Indiana University-Purdue University Indianapolis offers a bachelors degree in Organizational Leadership and Supervision. Majors can apply for both Purdue University scholarships and College of Technology (CoT) scholarships. In 2011, 185 students received COT awards averaging $1,000 each.
To renew your CoT scholarship, you will need to submit annual applications, which you can do online. For information about individual scholarships, you will need to talk to Purdue's Academic Excellence Coordinator (contact information is provided on the scholarships page).
Indiana University-Purdue University Fort Wayne
Indiana University-Purdue University Fort Wayne's OLS majors are eligible for the David P. Swinehart Memorial Scholarship. You must have finished 60 credit hours overall with a 3.0 GPA, and 21 of those must be OLS courses, in which your GPA must be 3.2. You must register for six credit hours in the semester you receive the Swinehart award, and not be receiving aid that pays your entire tuition.
The $500 award is based on your academic record.
Penn State
The Penn State For Adult Students program of continuing education requires 123 credits for its OLS bachelors degree. The financial aid office has only one application form, the Free Application for Federal Student Aid (FAFSA), which you must complete annually. To be eligible for financial aid, you must meet the following criteria:
You must be making satisfactory academic progress
All student loans must be out of default status and you must not owe money on an adjusted grant
You must be at least a half-time student in an eligible degree program
You must register with Selective Service if legally required to do so, and
You must have the equivalent of a high school diploma.
Once you have complied with those basics, there is a page of information on applicable scholarships. Here are three of your choices:
The Fund for Adult Continuing Education Support (FACES) scholarship is for those who have finished six credit hours with at least a 2.5 GPA and have financial need.
The Fischer Family Scholarship rewards academic excellence for students with financial need.
The Osher Foundation Re-entry Scholarship is for students who have returned to school after a hiatus of at least five years and are between 25 and 50 years old.
University of Houston
The College of Technology (CoT) at the University of Houston provides an OLS degree track, and you only need to fill out one application in order to be considered for all CoT scholarships. Criteria include both academic achievement and financial need, and you can obtain more information about the details of available awards at the CoT's Academic Services Center.
Central Penn College
Central Penn College (CPC) offers a bachelors degree in Organizational Leadership, and the Bailey Foundation can help finance that degree with a $5,000 scholarship to defray tuition over a period of 18 months. Here are the criteria you must meet to be eligible:
You must have a GPA of at least 2.5
You must demonstrate financial need
You must be enrolled in a degree program at CPC, and
You must be a resident of the U. S.
Brevard College
Brevard College provides a Business and Organizational Leadership major, and for students who choose it there are three scholarships, the Lucille Siniard Cain Memorial Scholarship in Organizational Leadership, the Jack S. Folline Scholarship in Organizational Leadership, and the Jerry Hart Jerome Scholarship for Organizational Leadership. These are all reserved for students with financial need, as calculated from information supplied on your FAFSA.
University of Cincinnati
The Department of Psychology at the University of Cincinnati includes a degree program in Organizational Leadership. You have two options in departmental scholarship aid, the W. Linn DeBeck Fellowship in Psychology and the Anthony F. Grasha Memorial Scholarship Fund, both designated for undergraduates. You can contact the department directly for details on how to apply.
Business Scholarships
Browse Scholarships
Resources
More Educational Resources