Restaurant and Culinary Scholarships
Find a Lucrative Job in the Restaurant Industry
There are numerous degree programs available for those who want to make restaurant work a career. You can cultivate expertise in the restaurant industry or focus on acquiring skill in preparing food. If you choose the latter course and want to get an idea of what your education will be like, the most honest resource may be Anthony Bourdain's Kitchen Confidential, and that book is highly recommended for aspiring culinary students.
There are many cooking schools in various countries, and if you focus your attention on the finest, you can give your degree maximum effectiveness. Degrees are not necessary to advance in the restaurant industry, so if you do expend the effort select your school with care.
For instance, if you choose Le Cordon Bleu, try to go to Paris. In America, the top school is the Culinary Institute of America. Those are very easy calls to make: the need for well-informed judgements comes in assessing the remainder.
There is a wide assortment of culinary scholarships provided by different schools, and the following material gives an idea of what you can expect in terms of financial aid.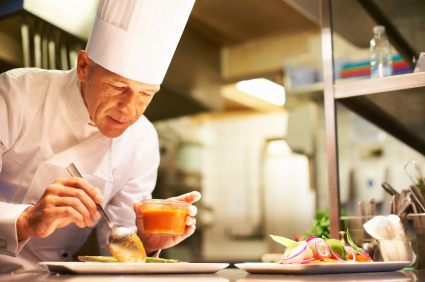 Scholarships From Schools
The Culinary Institute of America
The Culinary Institute of America (CIA), originally in Hyde Park (New York), has added two campuses in St. Helena (California) and San Antonio (Texas). Each campus has a different selection of scholarships, and since the Hyde Park location is the only one at which you can complete a bachelors degree, we'll list three of the choices found there:
The CIA Merit-Based Scholarships are awarded based on three criteria: your experience in the food service industry, your performance in school, and your participation in activities outside school. The amount varies between $2,500 and $4,000.
The SAT/ACT Achievement Scholarships are given to students who have at least an SAT score of 1,000/ACT score of 22. That type of score earns $1,000, and scores of 1,200/27 receive $2,000.
The Alumni Referral Scholarships go to students who provide reference letters from CIA graduates upon application to the school, in the amount of $1,000 each.
Le Cordon Bleu
Le Cordon Bleu has 17 American campuses, and an entire page of information on available scholarships. In general, the school looks for recipients who show leadership potential and passion for the business. To receive a scholarship, you must be unable to meet all your education costs after you have obtained all the funding possible from other sources, like the federal and state governments.
There are numerous options for those attending full-time, and here are three examples:
For the Best of the Best Scholarships, a GPA of 3.5 is required. The average amount given is $2,500.
The Foundations Scholarships are handed out to students who submit brief essays describing their personal commitment to the restaurant business, in the amount of $500 each.
The Student Leader Scholarships, for $1,000 each, are for students who enter Le Cordon Bleu with a GPA of at least 3.2.
L'Academie de Cuisine
L'Academie de Cuisine, located in Washington, DC, has a page of helpful scholarship information here. Here are the three awards sponsored by L'Academie:
The Culinary Trust Scholarship is a $5,000 credit issued toward tuition for a new student. Criteria used to decide on a recipient include your skill in the kitchen, your career plans, and your personal references.
The Bill Jackson Memorial Scholarship goes to a student who shows great enthusiasm for learning. You must have an acceptable academic record to apply, and the amount given ranges from $1,000 to $1,500.
The Roland Mesnier Pastry Arts Scholarship, for $4,000, supports a pastry arts student.
Scholarships From Private Organizations
National Restaurant Association Educational Foundation
The National Restaurant Association Educational Foundation underwrites five scholarships for undergraduates, and here are four of those listed:
The First-time Freshmen Scholarships go to new students who have high school diplomas or GEDs, and they bring $2,500.
The Undergraduate Scholarship, also for $2,500, is awarded to students currently enrolled.
The two Al Schuman Ecolab Entrepreneurial Scholarships, one for new students and one for current students, vary between $3,000 and $3,500. They are intended for students who are equally fascinated by the culinary arts and the restaurant business.
James Beard Foundation
The James Beard Foundation hands out scholarships as part of its educational mission, and also offers grants and a work-study program. You may contact the foundation for more information on how to apply.
Women Chefs and Restaurateurs
A group called Women Chefs and Restaurateurs offers scholarships through its member schools, and those scholarships are unique to their locations. That means you will need to attend a WCR school in order to receive one of those awards, which provide opportunities for female students.
Business Scholarships
Browse Scholarships
Resources
More Educational Resources