Florida Student Grants for College
Florida Grants Your Education Free Money
The Florida Department of Education Office of Student Financial Assistance (OSFA) administers several popular state post-secondary education grants and scholarships. OSFA also provides information for parents, students, and high school guidance professionals; helping Florida college students gain access to state financial aid resources.
The Florida Public Student Assistance Grant Program (FSAG) for Public Schools is a need-based undergraduate student aid program for Florida residents.
Eligibility Requirements:
Attend a Florida public state university or public community college
Institutions must be Title IV eligible with U.S. Department of Education approved accreditation and administer Pell Grants
Florida Public Post-secondary Career Education Student Assistance Grant Program (FSAG-Career Education) helps Florida students obtain vocational training.
Eligibility Requirements:
Attend a Florida community college or career center offering career certificate programs of 450 hours or more, or 15 semester credit hours
Florida resident
The Florida Private Student Assistance Grant Program (FSAG-Private) provides a leg-up for Florida college students enrolled outside the public university system. Qualified candidates attend independent colleges or universities operating as non-profit organizations.
School Eligibility Requirements:
Accredited by the Commission on Colleges of Southern Association of Colleges and Schools (SACS)
Grants baccalaureate degrees
Located in Florida
Chartered as domestic
Institutions must be Title IV eligible with U.S. Department of Education approved accreditation and administer Pell Grants
Approved accreditation by U.S. Department of Education
The Florida Bright Futures Scholarship Program (FBFSP) creates several lottery scholarships for students with outstanding academic accomplishments.
Eligibility Requirements:
Attend a Florida public state university, public community college or career center
Complete specific course work and maintain GPA eligibility requirements.
Participating Bright Futures institutions of higher education must meet these minimum requirements:
Accredited by an association with standards comparable to the minimum standards required to operate an institution at the level determined by the rules of CIE.
Has operated in Florida for at least three (3) years
OR
Licensed by CIE
Offers accredited degrees
Demonstrates evidence of sound financial condition
Has operated in Florida for at least three (3) years without its approval, accreditation or license being placed on probation
OR
Licensed by CIE
Show evidence of an acceptable completion rate and sound financial condition
And either
Is accredited at the institutional level by a U.S. Department of Education approved agency
Has operated in Florida for at least three (3) years without its approval, accreditation or license being placed on probation
OR
Has operated in Florida for five (5)years during which there has been no complaint for which probable cause has been found
Scholarships for Children and Spouses of Deceased or Disabled Veterans (CSDDV) provide educational funding for students whose parent lost his or her life, or became permanently disabled as a result of military service.
RFS Program
Private scholarship programs also fund higher education in Florida. One of these is the Rosewood Family Scholarship Program (RFS). Students competing for RFS funds are subject to these conditions of eligibility.
Must not be in default on previous financial aid
Enrolled full-time in an accredited program
Pursuing first degree
Submit proper documentation
Attend Florida public state university, public community college, or career center authorized by stste law.
The Minority Teachers Education Scholarship Program is a collaborative performance based student aid effort that targets Black, Hispanic, Asian and Native American students. The Florida Fund for Minority Teachers maintains a listing of eligible institutions and contact information for participating schools.
Prerequisites:
Attend Florida public state universities offering teacher education programs
Attend Educator Preparation Institutes (EPIs)
Attend public state community colleges offering teacher education programs or EPIs
OR
Attend independent universities offering teacher education programs
Florida First Generation Matching Grant Program supplies funding for students who are the first members of their immediate families to pursue higher education at the baccalaureate level.
Prerequisites:
Enrolled at eligible Florida public state university or public community college authorized by state law
Resident of Florida
Pursuing a degree
Undergraduate student
Substantial financial hardship
Parents do not possess bachelor's degrees
The Jose Marti­ Scholarship Challenge Grant Program is a need-based merit scholarship aimed at Hispanic college students. The aid is actually awarded to graduating seniors, so filing a timely application prepares you to receive the award.
Prerequisites:
Enrolled at eligible participating public or private Florida university or community college
Florida resident
Hispanic cultural ancestry
No current student aid defaults
Minimum 3.0 GPA after 7th high school semester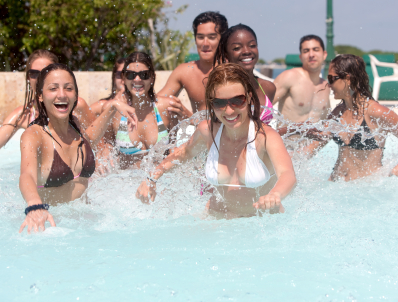 Additional Grants and Scholarship Opportunities
Public and private grants and scholarships are available through diverse Florida channels. Consult with your high school guidance counselor and your college financial aid administrators for specific program details. Programs target undergraduates, as well as graduate students pursuing advanced degrees.
Florida Academic Scholars (FAS) and Florida Medallion Scholars (FMS) working toward bachelor's degrees may receive funding for 1 term of graduate study, not to exceed 15 semester hours, paid at the undergraduate rate. Students who graduated from high school after 2010 must apply for aid through the Bright Futures program. Grants cover up to 100% of tuition costs for approved degree programs of study. Eligibility requirements must be maintained, and if a student is disqualified for poor performance, he or she will only be reinstated if the infraction occurs during the student's first year.
The Southern Association of Colleges and Schools is a accrediting body that helps Florida schools qualify for grants and scholarships that are funded by the state's educational benefactors. these school's enjoy SACS accreditation:
Art Institutes Miami International University of Art and Design
Florida National College
South University
Ave Maria University (private)
Barry University (private)
Beacon College (private)
Bethune-Cookman University (private)
Clearwater Christian College (private)
Eckerd College (private)
Edward Waters College (private)
Embry-Riddle Aeronautical University (private)
Everglade University (private)
Florida Christian College (private)
Florida College (private)
Florida Hospital College of Health Science (private)Florida Institute of Technology (private)
Brevard Community College (private)
State College of Florida–Manatee and Sarasota
Middle States Association of Colleges and Schools is another accrediting agency that helps schools like Carlos Albizu University, in Miami, land grants and scholarship dollars for students who study there.
Choose a Participating Institution
Make sure your school is on board with the financial aid programs you need. Public and private schools run their financial aid administration offices differently, so don't make assumptions from one school to the next. Guidance counselors and student aid professionals are best equipped to keep you up to speed on program specifics and general financial aid developments.
The 2011 Jose Marti Scholarship Challenge Grant eligible institutions are:
Acupuncture and Massage College
Acupuncture and Oriental Medicine
AI Miami International University of Art & Design
American Intercontinental University
Angley College
Argosy College
Art Institute of Ft. Lauderdale
ATI College of Health
Barry University
Carlos Albizu University
Chamberlain College of Nursing
Clearwater Christian College
East West College of Natural Medicine
Embry-Riddle Aeronautical University
Florida Career College–Clearwater
Jose Maria Vargas University
Le Cordon Bleu College of Culinary Arts
Northwood University
Seminole State College of Florida
Touro College
Ultimate Medical Academy–Clearwater
Webber International University
and other institutions
The 2011 Rosewood Family Scholarship Program makes scholarships available to these institutions:
Aparicio-Levy Technical Center
Brevard Community College
D. G. Erwin Technical Center
Edison State College
Florida Atlantic University
Gadsden Technical Institute
Henry W. Brewster Technical Center
Indian River State College
Leary Technical Center
MDCPS–The English Center
Palm Beach State College
Radford M. Locklin Technical Center
Thomas P. Haney Technical Center
Walton Career Development Center
and other institutions
Apply Early
To receive priority consideration for limited student aid resources, high school seniors planning to attend college need to apply for financial aid as early as possible. Narrow your college search to a few likely candidates, and then take the ACT or SAT test - well before the deadline. High scores on these college qualifiers can be helpful inputs as you navigate the student aid landscape.
State and federal deadlines do not always match up, so it is important to consider the state you'll be matriculating in. Colleges and universities also put forth individual financial aid agendas; including school-specific timetables that must be met by eligible students. Florida grants and scholarships are funded by a wide cross-section of public and private entities, but the programs are not endless fountains of cash. Send in your financial aid applications and supporting materials ASAP, to avoid disappointment when your targeted programs run dry.
Securing Florida financial aid starts with submitting a standardized application for student aid. The Free Application for Federal Student Aid (FAFSA) places you in contention for various forms of federal financial aid, and also serves as a qualifying document in Florida. Your quest for student assistance goes nowhere until you file your FAFSA.
The standardized request for student aid compiles information about you and your family. Assets and income are considered, alongside family size, to create a summary view of your financial strength heading into college. Using college costs and and your families expected contribution, financial aid professionals analyze your level of need. Based on your qualifying attributes and educational goals, schools match you with programs that are best suited to bridge your individual college funding gap.
It all starts with the FAFSA, which is due federally by June 30th. Most states have earlier deadlines, so always use the earliest filing date that applies. Remember, you can file your FAFSA any time after January 1st, – and it pays (literally) to file early.
Working with the FAFSA
The FAFSA form was recently shortened, but completing it can be time consuming and confusing for some applicants. The form can be completed online or a paper copy can be requested for completion. Worksheets and preparatory materials are supplied with the FAFSA form. Spanish speaking students are invited to complete a Spanish-language version of the FAFSA.
Free help seminars, called College Goal Sundays are conducted across the country to assist students with financial paperwork. The events are sponsored by YMCA, and supply on-site professional assistance for completing the FAFSA. One-on-one counseling sessions with financial aid professionals provide assistance with other financial aid resources and help students complete state-wide services applications. Students are encouraged to bring supporting documents to all College Goal events. These documents are essential for completing the FAFSA:
FAFSA Documents Checklist
Social Security card
Driver's license
W-2 Forms from the previous year
Most recent Federal Income Tax Return
Parent's Federal Income Tax Return (if required)
Current bank statements
Other investment records
Use Your Major to Qualify for Florida Grants
Students also need to consider their intended majors. Some scholarships and grants are initiated by Florida associations and foundations that support particular vocational segments. Knowing your major helps uncover career-specific opportunities that contribute student aid within your major. Not all scholarships require you to officially declare your major in your freshman or sophomore years, but career-minded educational benefactors zero-in on the next generation of industry professionals. Research yields Florida financial aid resources that serve particular majors: Tapping your career dreams opens additional doors for college funding assistance.
Scholarships by major or field of study are sponsored by organizations, corporations, and government agencies; both federal and state. Large corporations like WalMart, Toyota, and PepsiCo offer scholarships to students with various majors. Foundations and philanthropic initiatives account for another large share of private student aid. College endowments and memorial awards often grant aid in the form of institution-specific awards with very specific eliginility requirements. Community organizations also give grants to undergraduate and graduate students.
Well-Funded Areas of Study
Business, Science and other individual disciplines draw job-specific funding that helps students excel. High-need fields like teaching and nursing are supported by grants and scholarships that increase enrollment in short-supply fields. Tuition rebates and college-for-service agreements provide full-ride funding opportunities for students willing to trade work for tuition. Science, technology, engineering and mathematics (STEM) subjects are forward-thinking curricular areas that draw high levels of Florida grant funding. These popular college majors open additional doors to career-specific grants and scholarships.
Business Administration
English
Elementary Education
Biology
Communications and Broadcasting
Computer Science
Information Technologies
Engineering
Math
Minority Groups
Browse Grants
Academic
Government
More Educational Resources