Resources for Consolidation of Chiropractic Education Debt
Chiropractic Student Loan Default Rates
Student loan consolidation for chiropractic students is a pressing topic. A large proportion of graduates who received the required four years of chiropractic training using government funding have defaulted on their student loans. As of January 2010, chiropractors in default constituted 53% of all practitioners who lost their eligibility to treat Medicare and Medicaid patients via default. How did this come about?
From 1978 through 1998, the federal government offered student loans for medical education through a program called Health Education Assistance Loans (HEAL). Interest was collected on HEAL loans even during the borrower's time in school, making them expensive alternatives. For that reason, HEAL was considered the loan of last resort.
To compound the difficulties produced by that type of borrowing, insurers have become increasingly reluctant to pay for chiropractic care, and chiropractors' income is therefore declining. As part of alternative medicine, the chiropractors' profession has always faced strong opposition from the medical establishment, and the decline in average income means chiropractors also face much more professional competition from within their own ranks. That makes it even more difficult to achieve the level of income needed to pay off medical education loans.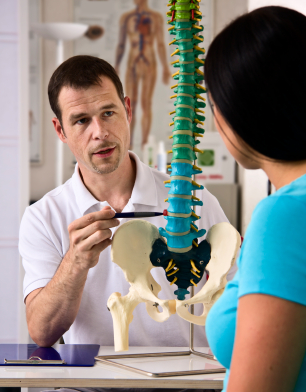 Loan Financing for Chiropractic Education
Chiropractic training can be very expensive. For example, tuition for one full year (three academic quarters) at Life Chiropractic College West totaled $45,549 in 2012. Multiply that by four years and the result is new student loan debt of $182,196, which is added to existing undergraduate debt.
Most, if not all, of the cost of a chiropractic education is normally funded using federal loans applicable to graduate school and private student loans. Consolidation rules vary among private lenders, but there are fixed guidelines for consolidating your federal loans.
Consolidation of Federal School Loans for Chiropractic Education
Loan consolidation means combining your existing federal student loans into one loan, with one monthly payment. That will make it easier to keep track of both your payments and the debt itself, because you'll have to monitor only one set of numbers (principal, interest, payoff date, and so on) in order to understand your indebtedness.
But remember, extending the time for repayment, which is how consolidation works, will also increase the amount of total interest you pay. The benefit of consolidation loans was originally intended to be a fixed rather than variable rate, but since federal student loans now have fixed rates, that means convenience is now the primary advantage.
Most types of federal loans are eligible for consolidation:
Health Education Assistance Loans (the HEAL program discussed above)
Direct Subsidized and Unsubsidized Loans
Subsidized and Unsubsidized Stafford Loans
Direct PLUS Loans and PLUS loans originated by the Federal Family Education Loan (FFEL) Program
and others listed on this page.
Chiropractic students may use either of two federal consolidation options. The type of federal loan you have does make some difference in choosing a consolidation loan, though.
Direct Consolidation Loans
Direct Federal Consolidation Loans are made by the U.S. Department of Education. The borrower center is here, and you must have either a Direct Loan or an FFEL loan that is in one of the following status categories: grace period, repayment, deferment, or default. If you have only an FFEL loan but have not been able to consolidate with an FFEL lender (that is, you cannot find a lender or cannot find one with a loan tailored to your income), or you plan to apply for loan forgiveness, then you may be able to obtain a Direct Federal Consolidation Loan.
Interest on the Direct Federal Consolidation Loan is fixed and based on the interest rates of the loans being consolidated, but it cannot exceed 8.25%.
Federal Consolidation Loans
The Federal Consolidation Loans are made through FFEL and you obtain them through private lenders, to which you will make loan payments. The interest rate is calculated in the same way for this loan as for the Direct Federal Consolidation Loan, but private lenders have leeway to offer attractive incentives to consolidation borrowers, in an effort to attract business.
Terms vary for any loan made through a private institution, so shop very cautiously: you're rolling all your student debt into one large long-term loan, so there's no room for error in finding a feasible repayment schedule.
Consolidate Private Chiropractic School Loans
Not all private student loans are eligible for consolidation, so consult the terms of your particular product. Again, take care in selecting a lender, because consolidation is often a one-time option. Consolidation loans are generally large, so it would be advisable to seek professional financial counseling before choosing one.
Before the recession, Sallie Mae (formerly the Student Loan Marketing Association), the nation's largest originator of federal student loans, also offered student consolidation loans. In 2008, Sallie Mae suspended its consolidation program because they found consolidation loans less profitable than other student loans.
However, there are still some private providers like Nelnet offering consolidation loans. As a rule, private loans cost more than federal loans, but if you already have private loans that you must consolidate, a private lender is your only option.
Background Information
Loan Type
Discipline
Lenders
More Educational Resources