German Language and Literature Scholarships
Language Specialists are In-Demand
Many students see learning a second language as beneficial when searching for a job. There are also those who want to teach a second language as their career. Many choose German as a second language because of the number of people who speak it- over 140 million- and its great influence in the European Union. It is actually more widely spoken in these countries than both Spanish and English. There are many opportunities for those with a major in German and German Literature. Government organizations need representatives and translators, and the same goes for private businesses. There are also countless teaching opportunities available. Because the demand is so high for those fluent in German, there are scholarship opportunities to encourage more students to learn it.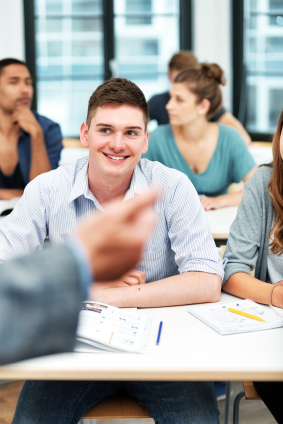 Scholarship Programs
Delta Phi Alpha, The National German Honor Society
Delta Phi Alpha is the National German Honor Society. Each year they award one graduating senior who earned their degree in German. Students must be a member of Delta Phi Alpha to be eligible. This scholarship is intended to help the students further their German studies by engaging in research abroad in a German-speaking country. Upon returning to the U.S., students are expected to start graduate studies and apply for the DAAD Grant. Those who are selected to receive the scholarship are awarded a $2,500 cash prize.
They also offer a scholarship to a sophomore or junior each year. The purpose of this award is to allow students the chance to study abroad in a German-speaking country. Students must be members of Delta Phi Alpha in order to apply. The amount of this award is $1,500.
German Academic Exchange Service
German Academic Exchange Service (DAAD) is an organization that aids the international activities of German institutions by hosting events, through publications, and other marketing services. DAAD is dedicated to providing funding for students who wish to study abroad in Germany. Each year, over 74,000 scholars participate in one of their 250+ programs. These programs cover everything from semesters abroad to internship opportunities. Studying abroad isn't cheap, however. DAAD understands this and offers numerous scholarships. For example, their undergraduate scholarship goes to students who are going to study abroad at a German university. Students must be either sophomore or junior in standing and looking for support for four to ten months of study. This scholarship provides a monthly stipend of € 650 and additional funds to help with research and travel expenses.
East Carolina University, Department of Foreign Languages and Literatures
East Carolina University has an extensive Foreign Languages and Literatures Department. German is one of their major foreign language programs. They are committed to their students' education and have programs where they can learn a second language first-hand in a foreign country. The Fleming/ Perry Scholarship goes to students studying either German, French, or Spanish. Students must have a minimum GPA of 3.0 and be involved in extracurricular activities within the Foreign Language Department to be eligible. The amount and number of scholarships awarded varies each year.
Yale University, Department of German
Yale University has a department dedicated to the Germanic Languages and literature. It is renowned throughout the United States as one of the best German programs. They encourage students to study abroad in Germany for first-hand exposure to the language. For information regarding scholarships, visit their grants & fellowships page.
University of Washington, Degree in Germanics
The University of Washington has a unique program called the German Express. Students in this program are able to master the German language within one year. During the summer semester, students are able to study abroad in Germany. This accelerated course is only opened to the best students in German. At the end of the autumn quarter, the five best students are awarded stipends of $1,000. These funds go towards expenses involved with studying abroad.
Language Concentrations
Browse Scholarships
Resources
More Educational Resources