French Language and Literature Scholarships
Work in Business, Government, Education
If you have an affinity for the French language and find yourself nodding agreement with a "Oui" instead of a "Yes" you may wish to consider it seriously as a full-time degree pursuit. Whether you choose to major or minor in French, or to end your studies with an undergraduate or a graduate degree, the study of French can mean a broad range of career possibilities and special opportunities available only to you as a linguist.
The ability to speak more than one language fluently is highly sought after in many disciplines, and the French language is so major – as it is spoken by 70 million people worldwide – and used as base for so many other languages that it is critical to many important matters of politics, economics and business.
Those students of French who are not planning on continuing their education past the undergraduate level will find career opportunities in the areas of business, government departments, or non-profit organizations, while those with graduate degrees and higher may find ample opportunities in the academic field of professorship or writing.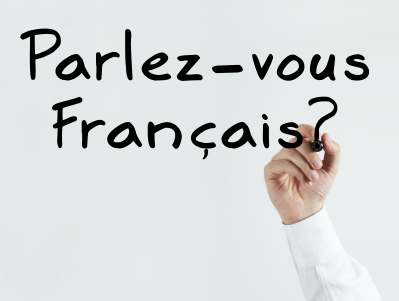 If you are dedicated to the pursuit of French as your chosen field of study, rest assured that there are plenty of financial aid options that can combine to create a promising monetary package to fund your courses in the language. Thanks to the support of internationally-minded organizations and benefactors, scholarship programs are in place at all levels to assist students interested in pursuing studies in French, both language and literature.
Scholarship Programs
American Association of Teachers of French
The Walter Jensen Scholarship for Study Abroad is offered each year to a U.S. citizen or a permanent resident who is a non-native-French speaker. Applicants must be enrolled in an accredited teacher education program in French. In addition, applicants for this scholarship must be sponsored by a teacher who is a member of the American Association of Teachers of French.
The $1,500 award is to be used toward the cost of tuition, fees, room and board, or travel expenses for either a semester or yearlong program of study in a Francophone country.
American Foundation for Translation and Interpretation
While not specifically for a particular language, this scholarship sponsored by the AFTI is a valuable $2500 gift awarded to a student engaged in a degree program related to translation or interpretation, including French. The qualified applicant for the JTG Scholarship in Scientific and Technical Translation or Interpretation will be at least one year into their studies of language and will have shown significant progress and outstanding capability in French translation or interpretation, whether oral or written. The AFTI scholarship is unique because it is not tied to any particular university, and is ideal for the student dedicated towards the subleties and technicalities of linguistics.
The College of Wooster, French Department
Students at Wooster in Wooster, Ohio who have distinguished themselves academically in the areas of French literature, language, and civilization and who can demonstrate financial need are invited to apply for a scholarship from the Frances Guille-Secor Memorial Fund.
The G. Pauline Ihrig Fund in French also provides funds to assist students who have achieved high marks at the post-secondary level and can demonstrate financial need. Preference for this assistance is given to students studying French with excellent grades in the language.
The Foundation for Democracy in Africa
African students wishing to pursue a degree in liberal arts, including French Language and Literature, at the New College of Florida are eligible to apply for the African Scholarship Program.
Interested persons must have completed the secondary school placement exams offered in their home country in the African continent. In addition, a score of 560 or higher on the paper version or 220 or higher on the computerized version of the TOEFL is required. Contact the New College of Florida for more information on applying.
Texas Tech University, Department of Classical and Modern Languages and Literatures
The Beatrice W. Alexander Scholarship in French is offered each year to students majoring in French at Texas Tech who have demonstrated excellent academic abilities and participated in Department-sponsored activities. The amount of funding provided is $500 per year.
Each year, a student majoring in French will also receive financial assistance from the Wendell E. McClendon Scholarship in French program. Preference will be given to an individual from a small town. Both scholastic achievement and financial need will be considered when choosing the scholarship recipient. See Texas Tech for information on applying.
Weber State University, Department of Foreign Languages and Literatures
Full-time French majors at Weber in Ogden, Utah are eligible to be considered for the Gwen Williams Scholarship, which is a tuition award for one semester of study. A minimum GPA of 3.0 is required; preference will be given to those who can demonstrate financial need.
Additionally, two French Merit Scholarships in the amount of $500 each are awarded annually to Weber students. These funds are to be used toward the cost of study abroad in a Francophone country.
The College of William and Mary
This school, located in historical Williamsburg, Virginia, is saturated in American and European contexts and offers the highly-regarded McCormack-Reboussin Scholarship for Rising Seniors in French & Francophone Studies. The award is a tidy $12,000, split into two sums dedicated to tuition for the senior's final year as well as a portion for study in France during the summer. A detailed research proposal and plan of use for the funds must be part of a student's complete application.
The University of South Dakota
Students wishing to study French in even such a faraway place as South Dakota will have their opportunity, as the University of South Dakota has an extensive language department and offers two scholarships just for French majors. The Alexander P. Hartman Scholarship and the Constance Hampl Scholarship are given annually to students who are exemplary in their academics generally at the university and especially in French. For the latter, students must necessarily keep up at least a 3.0 GPA, and for both, students must show major achievement in the department.
Further Options in the French Language
Your studies in French may open many global doors, some of which you never even knew existed. There are countless opportunities for travel, translation, work in political affairs and peace-making, literature writing, and teaching which will only be available to the bi-lingual student in French and English.
Take advantage of any other resources that may be available to you by getting in touch with the financial aid office of your college to see if they offer any further financing for those intending to study French language and literature. An opportunity like the ones available to students at the College at Wooster or Weber State may only be found once you inquire on the department micro-level. The study abroad department of your school may also have some resources to share, especially if they offer a study abroad program in France and language courses to go along with it. Other relevant organizations in your community that are worth checking out might be a French-American ambassadorial house or a French tutoring society.
Language Concentrations
Browse Scholarships
Resources
More Educational Resources