The 2nd Annual Political Blogging Scholarship
Scholarship Amount - $2,000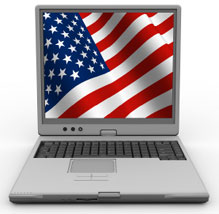 Do you maintain a political weblog and attend college? Would you like $2,000 to help pay for books, tuition, or other living costs? If so, read on.
We're giving away $2,000 this year to a college student who blogs about politics. Our scholarship is awarded annually.
This Years Contestants
Anthonly Palmer won - thanks for voting.
Scholarship Requirements:
Your blog must contain unique and interesting information about political issues, current events, opinions, etc. No spam bloggers please!!!
U.S. citizen;
3.0 GPA;
Currently attending full-time in post-secondary education; and
If you win, you must be willing to allow us to list your name and blog on this page. We want to be able to say we knew you before you became a well educated, rich, and famous blogging legend.
Why a Political Blogging Scholarship?
When we first introduced our general Blogging Scholarship in 2006, we didn't really know what to expect. The applicants had such varied interests and style. There were 10 finalists, all outstanding at what they did. In the end, the winner of the popular vote was a political blogger.
We then realized it's very hard for others to compete with political bloggers when it comes to rallying votes. Instead of banning political bloggers from entering this year's Blogging Scholarship without any compensation, we decided to create a separate scholarship just for political bloggers.
With the 2008 presidential election run already well underway, bloggers figure to play a big roll in the next elections.
Political Blog Categories
When submitting your application, please label your affiliation as one of the following:
Republican Party
Democratic Party
Other 3rd Party
We are accepting scholarship applications from all political bloggers, and our directors will decide on a blog from each category to become a finalist. If we do not receive an application from one of the political categories, we will leave out that particular category during the final round. In true democratic fashion, voting will be open to the public to decide the winner between the finalists.
Voting Dates and Times:
Entries will be accepted beginning Februrary 11th at 9am EST and end February 21st at midnight EST. Finalists will be announced February 24th at 9pm EST and the public voting will begin February 27th at 9am PST (new date).
Voting will close on March 16th at midnight PST. The winner will be officially recognized the following morning, March 17th at 9am PST.
The Winner Gets:
$2,000 immediately disbursed for their college expenses
Bragging rights
Admiration from fellow bloggers
Popularity
To write an acceptance speech consisting of 1000 words or less, which will be posted on this page (as seen below).
Last Year's Acceptance Speech from Jerid Kurtz: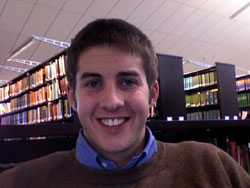 Thanks go out to the Ohio 'sphere, my buddies at the Buckeye State Blog, personal friends that pulled through for me, and family that showed up to vote. Like I mentioned earlier, I'll take this money to help finance a trip blogging from the New Hampshire Presidential Primary this summer from June through August. As far as I know, I may be the only person out there blogging for the duration of the summer. We'll find some trouble there somewhere I'm sure. Thanks go to College Scholarships.org!
What Happens to the Losers?
Concession Speech!
In a written concession speech consisting of 350 words or less, the losers can say whatever they wish…completely unedited and uncensored. We will post the speeches on this page as we receive them.
Last Year's Concession Speech from Denis Ambrose:
First off, I wish to congratulate Jerid on his victory. His blog is clearly well-maintained, and his posts are proof that he will soon be a national political reporter of great importance. I also wish to thank College Scholarships.org for sponsoring this program and giving my blog some mainstream exposure.
The importance of blogs and blogging cannot be "misunderestimated." At the time of the American Revolution, everyone had newspapers or almanacs in which they expressed the opinions of the day. Now, we are all bloggers. The power of the free press has changed its medium, but it is still as important today as it was then; indeed, given the politicization of the mainstream media, bloggers now represent the last independent voice of reason in our great democracy.
Thank you all (especially those who voted for me!), and God bless the USA.
---------------------------------------------------------------------------------------------------
Last Year's Concession Speech from Garret O'Hara:
Congratulations to Jarid on the well-deserved victory, and a big thank you to College Scholarships.org for the opportunity to compete.
In my time as a student at the University of Arizona, I've come to the conclusion that my university is for the most part very mainstream. I hear of egregious violations of freedom of conscience and speech on a regular basis coming from various parts of the country, but the University of Arizona as an institution has managed to avoid such scandals. Still yet, I see things on a regular basis that require investigation and exposure. If I am correct in determining my school to be mainstream, this must only mean that such anomalies, deceptions, and injustices occur on a regular basis at nearly every university across the United States. Student newspapers, political clubs, and candidates for student government office currently stand either unequipped or unwilling to confront these issues. The situation demands independently-minded bloggers, with their names on the line, willing to take up such causes.
From what I have observed, like-minded students of all political persuasions have been joining in the fight, but choose to focus upon national issues commentary. For everything that occurs on the typical university campus on a daily basis, these students are joining the wrong fight. I say this not to prop myself up, but rather to call upon like-minded students of all political persuasions to throw their names into the hat of independent political discourse and investigation on the municipal and university level.
National politics already has its political wars and discourse. To paraphrase love advice I once heard, one can make a small difference to many people or make a large difference to just a few. I promise all who decide to enter the arena that despite the prospect of poorer grades, your time will not have been wasted.
To Jarid and Denis I give my congratulations. To College Scholarships.org, thank you for the opportunity. To my voters and readers, thank you for your support. And to all my fellow Wildcats, Bear Down.
---------------------------------------------------------------------------------------------------
* Past winners of scholarships from College Scholarships.org are not eligible for this scholarship.