New Jersey Student Grants for College
Fund Your Education with Free Grant Money
New Jersey boasts some of the most prestigious universities in the world, such as Princeton and Rutgers. In spite of this abundance of top-dollar colleges, however, it is not difficult to obtain a grant in New Jersey and attend one of its universities inexpensively or even freely.
Using Grants in NJ
Unlike most states, New Jersey grants can generally be used at any of the 57 colleges in the state. This includes not only public universities, but private universities and community colleges as well. The first step in applying for any of these state grants is completing the Free Application for Federal Student Aid (FAFSA).
Almost all New Jersey grants require this form, so without it you will lose most opportunities for aid.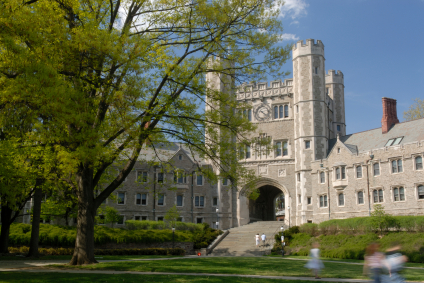 The New Jersey deadline for filing this form is October 1 of the year before you plan to enroll in school for the fall and spring terms. If you plan to enroll in the spring term only, the deadline is March 1. In addition to these deadlines, individual schools or grant programs may have their own deadlines or forms to fill out.
If you plan to attend a school in New Jersey, you may be eligible for one of the following state grants.
New Jersey's Tuition Aid Grant Program (TAG)
The Tuition Aid Grant program is available to all high school and undergraduate students in any field of study. In 2011, need-based Tuition Aid Grant programs provided over 71,000 awards totaling almost $282 million. It can cover as much as the entire cost of tuition as long as this number does not exceed the maximum allowable amount.
This award limit varies according to the type of school the student plans to attend and can run anywhere from $2,318 to $10,468. Although TAG was intended mainly for low and middle-income students, nearly one in three full-time New Jersey students is eligible for it. In order to qualify for this award, students must:
prove that they have a financial need
be a U.S. citizen who has lived in New Jersey for at least twelve months before their enrollment date
sign up for the military draft if they are required to do so
register at an approved New Jersey school as a full-time student
maintain good grades
There are also some restrictions to receiving this grant. The following students are not eligible for TAG:
Those who already have a degree
Those who have already collected the maximum grant payments
Those who are in default on a student loan or who owe a refund on a student grant
Those who are seeking a theological degree
To apply for New Jersey's Tuition Aid Grant program, students must complete the FAFSA by the New Jersey deadline of June 1 by midnight Central Time of the year that the student plans to enroll. If the student continues to qualify for this award, it is renewable each year.
Part-Time Student Options
This funding is available to students who qualify for TAG but are not enrolled as full-time students. The Part-Time Tuition Aid Grant is a state grant program for students enrolled in 6-11 credits in one semester.
It is prorated based on the number of credits the student is taking, and the eligibility requirements are similar to TAG with the following exceptions:
Educational Opportunity Grant Fund
This grant is for students who need additional aid beyond what is covered by TAG. It can be used by both graduate and undergraduate students for any educational expense, including books, fees and room and board.
Students who receive this grant are eligible to get between $200 and $2500 in financial assistance. This fund is renewable annually based on continuing eligibility.
Students must demonstrate extreme financial need and prove that they come from a disadvantaged background to receive this award. Priority is given to students who are academically motivated but have financial and social problems that may jeopardize their ability to obtain a college education. Requirements include:
Showing financial disadvantage and a family history of poverty
Proving that their household income does not exceed the guidelines for the award
Enrolling full-time at a college or university that participates in the program
All other stipulations are the same as those for TAG. Application is made through the FAFSA, but candidates must also contact the campus director at the school they plan to attend. To see if you are eligible for the Educational Opportunity Grant Fund, find out more information at the State of New Jersey Higher Education website.
There are only a limited number of these grants available at each school, and the director makes the final decision about who receives them. To maximize their chances of being one of the recipients, students should apply for this grant as early as possible.
POW/MIA Dependents Grant
This grant is for New Jersey students whose parents were declared prisoners of war or missing in action after January 1, 1960. It can cover the entire cost of their undergraduate tuition for any major, but only four awards are granted each year.
Students who believe they are eligible should contact the New Jersey Department of Military and Veteran's Affairs.
Veterans Tuition Credit Program
This award is granted in both the fall and the spring and can help New Jersey veterans obtain a graduate or a doctoral degree in any field of study. Each semester, 119 of these students are given between $200 and $400 for full-time attendance or $100 for part-time attendance. To qualify, they must:
have served between December 31, 1960 and May 7, 1975
have lived in New Jersey when they were discharged or for at least one year before they applied for the award
Application is made through the New Jersey Department of Military and Veteran's Affairs or the veteran's office at the school the veteran plans to attend. The deadlines for applying are October 1 and March 1. Students may also call the New Jersey Department of Military and Veteran's Affairs at 609-530-6854.
War Orphans Tuition Assistance Grant
Students who have a parent who died in military service or due to service-connected disabilities are eligible for $500 per year towards college tuition or equivalent training. The parent must have been a New Jersey state resident.
To qualify, the student must be a New Jersey resident for at least one year prior to filing their application. The student must be between 16-21 at the time of application. To apply, contact the New Jersey Department of Military and Veteran's Affairs or the veteran's office at the school you are planning to attend.
Disengaged Adults Returning to School Program
The purpose of the Disengaged Adults Returning to College grant is to encourage older students who have left college to return and obtain a degree. It is financed by a three-year federal grant that plans to create self-sustaining programs at participating universities.
Twenty-one schools submitted applications to the program for the 2009/2010 school year, and the following four were accepted:
Mercer County Community College
Passaic County Community College
Rider University
William Paterson University
Four more schools were added for the 2010/2011 school year:
Cumberland County College
Middlesex County College
Ocean County College
Sussex County Community College
The grant plans to include more schools in the future. Each school received approximately $75,000 to help them find adults who had left their school before receiving a degree and aid those adults in re-enrolling and graduating. In order to take advantage of the grant, students must:
be at least twenty years of age
have left a New Jersey school sometime since the year 2000
have been in good standing when they left
not have received a degree
have been at least halfway to receiving a degree
Former students who wish to return to one of the colleges that has received this grant money should contact the financial aid office at the institution to find out if they are eligible to receive help from the DARC grant.
Dual Enrollment Grants
The Dual Enrollment Incentive Grants are unique because they target students still in high school rather than college undergraduates or graduate students.
Ten New Jersey colleges and universities have been provided with money to help them produce or expand dual enrollment programs. These programs help high school students earn college credit even before they graduate. Priority is given to programs that emphasize math, science and writing.
Some of the money may be used to reimburse students for tuition and books if they can show financial hardship. The following institutions have been approved for between $20,000 and $24,000 of funding for this program in 2012:
Saint Peter's College
Rowan University
Georgian Court University
Salem Community College
William Paterson University of New Jersey
Passaic County Community College
New Jersey Institute of Technology
Cumberland County College
Middlesex County College
Raritan Valley Community College
High school students who desire to take courses at one of these universities should contact their school guidance counselor to discuss their eligibility to receive financial help from the Dual Enrollment Incentive Program.
College Bound Grant Program
This program does not directly pay for students' tuition, but it does help them prepare for college. It provides low-income middle and high school students with educational activities to help them finish school, enroll in college and obtain a degree. It provides students with:
tutoring
counseling
understanding of their career options
field trips
summer programs on university grounds that allow them to earn college credit for free
help with college enrollment and financial aid
Each year that this program has been in operation, over 95% of the students involved in it have graduated from high school. Of those students, more than 70% have gone on to enroll in college. This is about 30% more than the amount of high school graduates who enter college statewide.
In addition, College Bound students score an average of 40 points higher on the verbal portion of the SAT test and 60 points higher on the math portion than others at their schools. The College Bound Grant Program serves students in Abbot school districts. Five programs received money from this grant to serve 2,000 students in the year 2011. These include:
Project SMILE/GEAR UP at Mercer County Community College
College Bound/GEAR UP at New Jersey City University
Consortium for Pre-College Education in Greater Newark/GEAR UP at the New Jersey Institute of Technology
SMT College Bound Program/GEAR UP at Passaic County Community College
Creating Higher Aspirations and Motivations Project (CHAMP)/GEAR UP at Rowan University
All low-income students in these school districts are eligible to participate in the program. Information can be found through their school guidance counselors.
New Jersey's Many Grant Programs
As it is clear, the state of New Jersey is very proactive in ensuring that as many of its citizens as possible graduate from college. It makes every effort to open even its most prestigious institutions to those with limited resources through state grant funding, and more opportunities are being introduced yearly. New Jersey begins this effort as early as secondary school through programs like the College Bound Grant, and continues it all the way through graduate school as seen in the Educational Opportunity Grant fund.
Even those who enter college and then decide to leave are eligible to be nurtured through to a successful completion in the end through programs like the Disengaged Adults Returning to College program. Almost anyone in the state who wants to attend a university should have at least one grant program available to them among the many.
Minority Groups
Browse Grants
Academic
Government
More Educational Resources