Need Help Paying for College?
Free Hispanic Grant Offers
The total Hispanic population of the United States now outnumbers that of other minorities, but the percentage of Hispanics that attend college lags behind population numbers.
Colleges and universities are actively promoting diversity through minority recruiting efforts that target Hispanic students. By reaching out to Latinos in high school and even middle school, institutions of higher education - especially bachelor's and graduate level programs, are seeking to increase access for minority students. Scholarships and grants that specifically fund Hispanic higher education provide a leg up for minorities seeking an education beyond high school.
Historically, the Hispanic population of the United States has been considered undereducated – due to some significant social and economic anomalies that have kept Hispanic Americans from finding their place in the U.S. system of higher education.
The trend is moving in the right direction, with more Hispanics earning college degrees than ever before.
Hispanic Students Overcoming Cultural Educational Challenges
Since the early 1990′s, the percentage of Hispanic students moving directly from high school to college has risen dramatically. In 2010 alone, university enrollment among Hispanics spiked, with a 25% increase over the previous year. During the same period, enrollment percentages among white students actually went down. The increase in Hispanic college students is supported by a parallel trend that has more Hispanics graduating from high school today, than at any time in history.
For the first time, colleges and universities now have greater numbers of Hispanic students enrolling than students of African American descent.
The economy plays a role too, since the modern job pool requires larger numbers of college educated workers to fill vital employment roles. To access well paying jobs, Hispanic students are embracing higher education through outreach programs that target them for college enrollment.
One of the most consistent obstacles for Hispanic students has been a lack of financial resources. Scholarships, grants and other forms of financial aid are essential funding sources for most students. Whether it comes from the general financial aid pool, or from resources that are available only to Hispanic students, aid for college increases access for Latinos.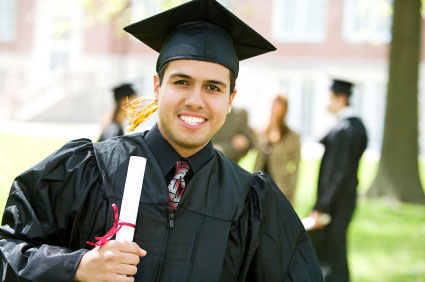 Economic Challenges – Federal, State and Private Grants
Grants are key components of student financial aid packages, which also include scholarships, loans and work-study roles. Like scholarships, grants involve funds that do not require repayment. Any portion of your college education that can be funded with free money grants goes a long way toward reducing your overall debt load after college.
While scholarships are often tied to meritorious achievement, grant awards are more likely to be dispersed to students with some degree of financial need. Hispanic students seeking financial aid should employ a two headed approach, by targeting general aid and aid that is specifically designed to promote higher education within the Latino community.
Federal Grants for Students
Federal Pell Grants are great starting points for Hispanic students who need money for college. The U. S Government is the most prolific provider of student grants, and Pell Grants represent the deepest pockets for free student aid.
The path to any federal financial aid starts by completing a standard form called the Free Application for Federal Student Aid ( FAFSA). Your FAFSA is used to compile information about you and your family that helps gauge your level of financial need relating to college.
Your personal income, your parents' income and assets, as well as the size of your family are used to project your Expected Family Contribution (EFC). Your EFC and the estimated cost of your education are used to create your personal Student Aid Report (SAR).
Your SAR is used by colleges of your choice to evaluate your eligibility for grants, loans and other forms of student assistance. Pell Grants are issued to financially disadvantaged students exhibiting a need for tuition assistance. Pell awards are granted based on these four criteria:
Financial need that goes beyond the scope of your Expected Family Contribution
Specific cost of attending your college or university
Enrollment status as a full-time or part-time student
Yearlong enrollment as a university student
Pell Grant limits change, based on Congressional funding, but student maximums are usually around $5000 per academic year.
Federal Supplemental Education Opportunity Grants (FSEOG) are government grants awarded to students with exceptional financial need during college. If your Expected Family Contribution is zero, you'll be considered first for FSEOG money. Grants are distributed from the bottom up, until funds are exhausted. If you are a FSEOG candidate, filing your FAFSA on time is essential.
Teacher Education Assistance for College and Higher Education (TEACH) grants are issued to stimulate enrollment and retain competent education professionals. Students pursuing teaching degrees must agree to three requisite conditions to be eligible for $4000 yearly tuition grants. To utilize TEACH grants, recipients must:
Work as a teacher for at least 4 years following graduation
Teach in high-need areas
Teach students who come from low-income families
If these conditions are not met by the degree candidate, the grant reverts to an unsubsidized loan, and the money must be repaid to the Federal Government.
Additional Grants for Hispanic Students
Business
Community Service – Sponsored by Southwest Airlines
Education – Sponsored by Target
Engineering – Sponsored by Exxon Mobil
Health Care – Sponsored by CVS
Jose Marti Scholarship Challenge Grant Fund provides tuition assistance for Hispanic students enrolled in Florida institutions of higher learning. Hispanic American high school seniors with cumulative grade point averages of at least 3.0 are invited to apply for this $2000 tuition grant, which can be applied at Florida public universities and participating private colleges.
Corporate Support Benefits Everyone
While many grants are issued by The U.S. Federal Government and by individual state governments, corporations also recognize the importance of supporting advanced education among minority students. Corporate grants are awarded to individuals directly, and to institutions that support Hispanic education.
Xerox issues scholarships directly to Hispanic college students, and also supports higher education for Latinos through the Xerox Foundation's Hispanic College Liaison Program. The Foundation disperses dozens of institutional grants yearly – to schools like University of Central Florida, California State and the University of Puerto Rico.
The Hispanic Scholarship Fund administers corporate grants from a wide range of participating sponsors, including:
Goya – Children of Goya employees are eligible for awards up to $5000 yearly.
Discover – Latinos enrolled full-time in pursuit of business-related degrees must reside in one of nine supported states and maintain GPAs of at least 3.0 to be eligible for these funds.
Clorox – Over 50K is dispersed annually to deserving Hispanic students.
Procter and Gamble – Science and technology majors, who are of Spanish cultural descent, are eligible for $2,500 yearly.
Sallie Mae Corporation, in concert with the Hispanic College Fund, administers the "First in My Family" Scholarship Fund. Hispanic students from disadvantaged backgrounds and from families with no history of college education may be eligible to receive these grants.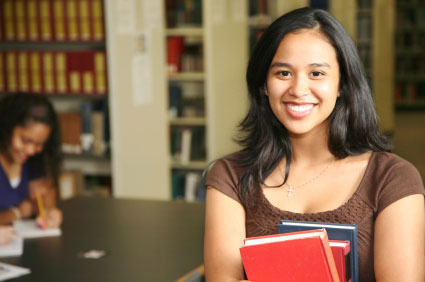 Hispanic-Serving Colleges and Universities
The Federal Government provides grants for colleges that specifically serve the Hispanic community. Hispanic-serving colleges are defined as those schools, which have student bodies that are comprised of at least one quarter Hispanic Americans. These institutions are concentrated in California, Texas, Florida, Puerto Rico, New York and New Jersey.
Hispanic-serving colleges in California:
California Sate -Bakersfield, Long Beach, Los Angeles, San Marcos and Stanislaus
East Los Angeles College
Fullerton College
Los Angeles City College
Hispanic-serving colleges in Arizona:
Arizona Western
University of Arizona South
Hispanic-serving colleges in Colorado:
Adams State
Pueblo Community College
Hispanic-serving colleges in Florida:
Hodges University
St. Thomas University
These are only a few of the popular Hispanic-serving schools benefiting from federal grant money. Consult with the Hispanic Association of Colleges and Universities for a complete listing of schools in your area.
Resources for Hispanic Students
According to the U.S. Department of Education, the more obstacles that an undergraduate student faces, the less likely it becomes that he or she will complete a four-year college degree program. To help ease the financial challenges associated with higher education, Hispanic students are urged to tap every resource available.
General fiancial aid, including Pell Grants and FSEOG funds are available to all needy students, but some additional grant monies are offered exclusively to Hispanic Americans. Requirements for Hispanic-specific grants include Spanish heritage, U.S. citizenship, full-time enrollment and sometimes an above average GPA.
Corporations also grant college aid to undergraduate and graduate-level Latino students. Eligibility requirements vary according to each sponser's wishes; sometimes calling for very specific applicant characteristics.
Filing your FAFSA is an important first step toward pulling together the financial aid you need for college, but it is up to you to uncover additional funding sources. Use Hispanic community organizations and other groups to stay informed about college grants for Latinos.
These helpful organizations provide valuable resources for Hispanic students seeking grants for college:
Congressional Hispanic Caucus Institute
The mission of the Congressional Hispanic Caucus Institute's (CHCI) Scholarship Program is to provide critical financial assistance for Hispanic students and to increase college graduation rates among Latinos. The Institute's programs include internships, fellowships, and scholarship opportunities. Each year, CHCI distributes more than $300,000 to needy Hispanic students – mostly from families that make less than 30K annually. Civic responsibility is emphasized by including an eligibility component that requires candidates to demonstrate a history of active participation in public community service activities. There is no GPA or academic major requirement attached to CHCI grant money, so all students with leadership potential are encouraged to apply. To stay informed about national grant opportunities for Latino students, check out CHCI's National Directory of Scholarships, Internships, & Fellowships, by visiting www.chci.org/scholarships/.
Hispanic Foundation of Silicon Valley (HFSV) furthers Hispanic causes through education and leadership training. Dedicated to Hispanic excellence, the organization strives to improve the quality of life for Hispanics in the Silicon Valley region. One HFSV program, the Silicon Valley Latina Scholarship Fund, awards three scholarships yearly to Latinas pursuing four-year college degrees.
Hispanic Association of Colleges and Universities develops and promotes Hispanic-serving colleges to improve access to higher education for Hispanic American students.
Hispanic Educational Technology Services is a bilingual initiative serving the ever-increasing educational needs of Hispanic communities. By bringing students and educators together for distance learning opportunities, the consortium uses technology to support Hispanic post-secondary education.
Congressional Hispanic Caucus Institute Regional Scholarships can be found alongside national opportunities in the organization's comprehensive publication: Directory of Scholarships, Internships and Fellowships. Sample listings from previous directories include the following financial aid opportunities for Hispanic students, but some may not be offered this year. For the the most up to date listings, download the current edition of the directory at www.chci.org/scholarships/
100 Hispanic Women-Young Latinas Leadership Institute
Amigos Scholarship Foundation, Inc.
Bar Association of San Francisco-Bay Area Minority Law Scholarship
BECA Foundation-Alice Newell Joslyn Medical Fund
BECA Foundation-Daniel Gutierrez Memorial General Scholarship Fund
BECA Foundation-General Scholarship Fund
BECA Foundation-Pepperdine University Scholarships
California Chicano News Media Association (CCNMA)-Joel Garcia Memorial Scholarship
Chicana/Latina Foundation Scholarship Fund
Coalition for Nursing Careers in California
Cuban American Scholarship Fund
Golden State Minority Foundation
Hispanic Education Foundation, Inc.
Hispanic Public Relations Association (HPRA)-Scholarship Program
Hispanic Scholarship Fund (HSF)/California State University, Bakersfield (CSUB)-Hispanic Excellence Scholarship Fund Program
Hispanic Scholarship Fund (HSF)/Little Village Chamber of Commerce (LVVC)-Ambassadors Scholarship Program
Hispanic Scholarship Fund (HSF)/National Hispanic Foundation for the Arts (NHFA)-Scholarship Program
Hispanic Scholarship Fund (HSF)/South Texas-Scholarship Program
Hispanic Scholarship Fund (HSF)/Toyota Foundation-Scholarship Program-Puerto Rico
Hispanic Scholarship Fund (HSF)/Toyota-Scholarship Program
Jose Marti Scholarship Challenge Grant Fund
La Raza Lawyers Scholarship Program
Latina Leadership Network (LLN)-Scholarship Program
Latin American Educational Foundation Scholarships
Latino College Expo, Inc.
Maxwell House Coffee-Minority Scholarship
Mexican American Legal Defense and Educational Fund (MALDEF)-Ellen and Federico Jimenez Scholarship
National Aeronautics Space Administration (NASA)/Society of Mexican American Engineers and Scientists (MAES)-Undergraduate Scholars Program
New Jersey Mental Health Institute (NJMHI)-Hispanic Higher Education Scholarship Program
PacifiCare Foundation-Latino Health Scholars Program
Pacific Gas & Electric Company-Hispanic Employees Association Scholarship Fund
San Jose GI Forum Scholarship Foundation
Spanish Speaking Citizens Foundation-Aztec Scholarship
TELACU Education Foundation-Arts Award
TELACU Education Foundation-Cesar Chavez Memorial Leadership Award
TELACU Education Foundation-David C. Lizarraga Fellowships
TELACU Education Foundation-Edison International Scholarship
TELACU Education Foundation-Engineering Award
TELACU Education Foundation-General Scholarship Program
Texas Association of Chicanos in Higher Education (TACHE)-Graduate Fellowships
Youth Opportunities Foundation
Congresswoman Lucile Roybal-Allard (California) Online Scholarship, Internship, and Fellowship Directory focuses on opportunities for Hispanic/Latino Students.
Hispanic College Fund, Inc., Scholarships
Minority Groups
Browse Grants
Academic
Government
More Educational Resources