PSAT/NMSQT Testing and Evaluation
Test Overview
The Preliminary SAT/National Merit Scholarship Qualifying Test (PSAT/NMSQT) is taken by prospective college students, usually as juniors in high school. As the name implies, the test is a necessary step in entering the competition for National Merit Scholarships. The first level of screening for those awards is the PSAT/NMSQT, in fact, and they draw more than 1.5 million competitors each year.
The college testing organization, College Board, composes and administers the tests to help prepare you for the SAT. Your PSAT/NMSQT results can also help you to win scholarships. Since the National Merit Scholarship Corporation cosponsors the test, it automatically receives your score, and you can ask that your score also be sent to other recognition and scholarship programs.
It is important that you familiarize yourself with what the test covers, and College Board maintains a page to explain how it works. The test requires you to use a combination of the knowledge you have acquired in high school with skills in reading comprehension, writing, and mathematics. The test has five sections, two in critical reading and math and one in writing. Since so many people take this test, there is a wealth of information available on how best to prepare for it.
The obvious place to begin is at the College Board site, which offers study and practice materials that apply to both the PSAT/NMSQT and the SAT. For example, the site posts a daily practice question, and if you make a habit of answering these questions early on in high school, you'll have an excellent idea of what the PSAT/NMSQT is looking for by the time you take it as a junior. Other free study aids are the sets of practice questions and the complete practice test.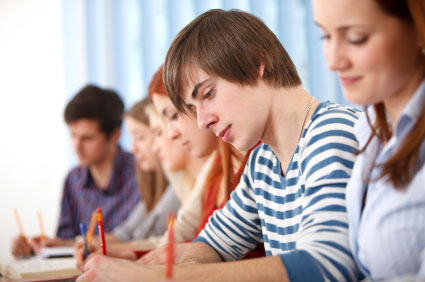 Registration
Some high schools give the PSAT/NMSQT to all students as a matter of course, but if that is not the case at your school you may contact your school guidance office or principal for a PSAT registration form. If you live outside the United States, College Board has advice on how to arrange for testing where you live. A local school employee who speaks English will have to help you make those plans.
If you are a student temporarily residing in another country, you will have to put down your school code and information about both that school and the testing school in a section on your answer sheet. That ensures your high school will receive your score.
Students who have been home-schooled can also take the PSAT by contacting a local high school where the test will be given. You are advised to do this as early as you can so the school can order test materials to accommodate you.
The PSAT/NMSQT is administered in October, always in high schools. You must pay a fee (currently $14 to the College Board, and the testing school may also add a small charge). There are normally only two test dates, so make your plans carefully.
The Use of Calculators
College Board is quite clear on this subject: you should bring a calculator for the math section. Take a calculator you are accustomed to rather than purchasing a new one, because you cannot do your quickest work if you're not completely familiar with your device. Acceptable calculator types include the:
Four-function
Graphic
Scientific.
There is also a list of calculators that will not be allowed, so follow the guidelines to the letter.
Scholarship Opportunities
Part of the National Merit Scholarship Corporation's business is finding students with exceptional academic ability, and they use PSAT/NMSQT scores in that process. Other scholarship referral organizations, such as the Telluride Association and the National Hispanic Recognition Program, are continually searching for exceptional students, and NMSC will pass your score to some of those agencies. The PSAT/NMSQT is your first opportunity to introduce yourself to the national network of talent-spotters, so put your best foot forward.
Adding up and Comparing Your Scores
Your composite score, called the Selection Index, consists of scores in the three individual sections (critical reading, math, and writing). Each subsection score ranges from 20 to 80, meaning the Selection Index ranges from 60 to 240. The average score for high school juniors was reported as 143 in 2011.
Take advantage of the free PSAT practice tests available online to help you achieve a better score.