The High School Diploma Alternative
Uses of a GED Credential
In an ideal world, everyone would graduate from high school, but that simply isn't a possibility or reality for many students. Most colleges require a high school diploma during the admissions process. Employers may use the GED scoring as a job qualification. That's why adults who can't seem to advance should consider earning their General Education Development (GED). This test's score can stand on its own, and it is the only high school equivalency credential recognized in all 50 states. And once you get it, you can be eligible for financial assistance to attend college or may be considered for advancement in your company.
The GED is sometimes referred to as the General Equivalency Diploma, although it's not the official name.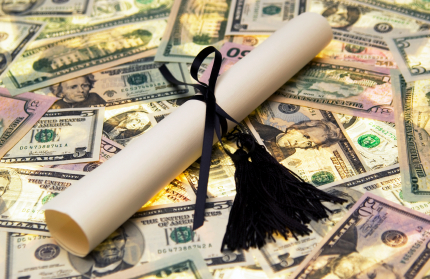 Test Details
The test is administered in English, Spanish, and French. The test has 5 sections, and each section is timed:
Language Arts: Writing
Language Arts: Reading
Mathematics
Science
Social Studies
Language Arts, Writing: The first part of this section covers structure, organization, usage, and mechanics through 50 multiple-choice questions. The second part requires you to write an essay that is graded on a scale of 1 to 4, based on: focused main points, clear organization, specific development of ideas, and sentence punctuation, grammar, word choice and spelling. Students have 45 minutes for the essay section.
Language Arts, Reading: The reading section consists of 40 multiple-choice questions. Excerpts from fictional and nonfictional literature are presented, and you must answer questions about each passage.
Mathematics: This section contains 50 questions administered in two parts. The first portion is multiple choice; the other requires you to work on standard or coordinate plane grids. One section is calculator-optional and the other does not permit calculator use. Do not bring your own calculator; they are provided at the test facility.
Science: There are 50 multiple-choice questions covering life, earth, space, and physical sciences, sometimes aided by graphics.
Social Studies: There are 50 multiple-choice questions covering American history, geography, civics and government, and economics.
It takes a total of seven hours and five minutes to complete all five sections.
Registering
There are 3,400 official GED Testing Centers in the United States, Canada, and their territories. They are usually operated by local school boards, adult education centers, and/or community colleges. Military bases and some companies encourage test participation. Each state has their own laws concerning prerequisites to the test. Some require pretests before registration. Contact your local school system or check out GED Testing Service, a partner of the American Council on Education.
Preparing
Test preparation can be done privately or in groups. A large variety of practice material is available online and in study books. Check with your state's Department of Education or local school system or colleges to determine if they offer adult education training, which provides a classroom atmosphere for people with similar skills and goals. The test is also available for the blind, disabled and test-takers for whom speaking English is their second language. The cost of taking the GED test varies from no charge in some states to $80 in others.