Skateboarding Scholarships
Skate for Scholarships
Skateboarding is a relatively new American sport, arising when homemade street scooters were stripped down to the minimum apparatus of board plus wheels, often taken from roller skates. Surfing was very popular on the West Coast in the 1950s, and skateboarding, called "sidewalk surfing," became its instantly accessible urban analogue, requiring nothing other than a board and a street. Late in the decade, the first commercially produced skateboards were sold.
The popularity of skateboarding kept rising in the early 1960s until the injuries associated with the sport attracted unfavorable public attention. A 1965 public safety campaign suppressed skateboarding fervor, and the sport did not pick up a new audience until the invention of the urethane wheel in the early 1970s, which made boards much faster. More money was attracted to skateboarding, funding skateparks and professional skaters.
The evolution of skateboard technology continues to drive new activity in the sport, and the addition of clothes to the sale of skating equipment provides another outlet for skating-related commercial activity. Skateboarding is no longer simply an amusement but also a subculture, with its own music and art. Its demographic, young urban males, is one marketers have a keen interest in reaching, which means that skate culture will persist as a media theme.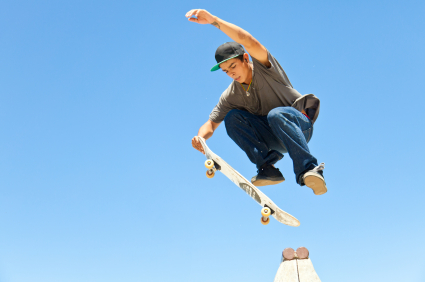 The inclusion of skateboarding in ESPN's Extreme Games in 1995 marked the beginning of its entry into mainstream sports. Since it's traditionally been an underground sport, and very proud of that status, there's internal resistance to letting the sport take a conventional path that eventually takes in college team competition and Olympic participation. There's a trade-off: the closer skateboarding comes to losing its counter-culture status, the more well-funded (and commercial) the sport will be.
That will mean greater ease in finding college scholarships related to skateboarding. Currently, most of the funding that supports skateboarders goes to building skateparks, sending young skaters to skateboard camp, and paying the professionals who serve as public exemplars of the best skateboarding has to offer.
Scholarship Paths
One college scholarship has been created just for skateboarders who have served as activists for the sport, called the Patrick Kerr Skateboard Scholarship. In past years, one scholarship for $5,000 and three for $1,000 each were awarded, but in 2012 the website, skateboardscholarship.org, was no longer active. That means you will have to exercise your creativity and persistence by locating other sources of financial support for skateboarders and using them to help underwrite your time in college. To make that happen, you need to be a visible part of your local skating community.
Make Yourself Known In Skateboarding
Build solid personal contacts with other skaters and skate-friendly businesses. Show the strength of your commitment to the sport by reaching out to others: gather a group to put a skatepark together, make sure your local skating areas are welcoming and inclusive places where everyone has room to strive for a personal best, and shine in every regional competition you can find. The more energy and determination you devote to skating, the more rewarding you'll find your experience in the sport.
Professional sponsorships sometimes arise overnight, but you'll increase your chances if you reach out to all the skating businesses in your town first. Do your shopping there rather than online, offer to help them out with unpacking products, and become part of the family. You need a sponsor and every ambitious skateboard retailer needs excellent skaters to burnish its image, so it's your goal, in your search for college funding, to present yourself as a personable and trustworthy athlete who would be an asset in a sponsorship.
The best time to start working your way up the sponsorship ladder is now, and a local shop sponsorship is the natural starting point.
Want To Build A Skatepark? Ask Tony Hawk
One perfect example of the type of activity you should pursue would be securing a grant from the Tony Hawk Foundation to give your neighborhood the skatepark it's needed for years. The program was designed to hand out funds ($25,000 at most) to build public skateparks in areas with less per-capita income and more high-risk young people, and it is essential that local skaters participate in all phases of the process (finding the money, planning the park, and finding a contractor with skatepark experience to do the construction).
Scholarships For Skate Camp
Skate camps are good places to make yourself known as the skater who's always willing to help others out, and always working to improve his own performance. If you can't afford to attend on your own when you're younger, there are skate camp scholarships available on sites like the Harold Hunter Foundation, which sends young residents of New York City to Camp Woodward and Element YMCA Skate Camp every year.
Element YMCA posted a description of the camp counselors it hires, who should be enthusiastic and motivated to make the experience for the campers delightful and unforgettable. Add the qualification "excellent instructor," and Element YMCA has described exactly the sort of person who's first in line for promotional and financial assistance.
You can find other skate camp scholarships at sites like the Go Skateboarding Foundation.
Another suggestion for the college-bound skater is to assemble a list of skate-friendly schools and target their traditional academic scholarships. If you work in your school's active skateboard groups, you can create an opportunity to bring the sport to the attention of the college donors who underwrite the scholarships for other sports.
Browse Scholarships
Resources
More Educational Resources