Scholarships for Elementary-Aged Students
Funds for Private School and Camps
Even schoolchildren are encouraged to compete for scholarships, and financial aid is available to them for several purposes: attending camps or private schools, or as cash prizes for winning contests, or as college scholarships for future use. There are any number of ways to secure that type of assistance for children, and the following examples should be considered as representative of what you can locate.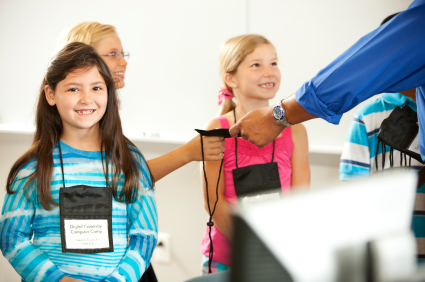 Help In Paying For Children's Camps
Christopher Columbus Awards
The Christopher Columbus Awards are part of a national program encouraging middle school students to take an interest in the STEM subjects (science, technology, engineering and mathematics). The Christopher Columbus organization issues a simple challenge: working as a team with an adult coach (often a teacher), find something in your community that needs improvement and, employing the scientific method, generate a fresh and effective solution.
Last year's winning projects were a self-sanitizing conveyor belt for grocery stores and a cheap press that forms fuel briquettes out of organic waste in an effort to conserve wood in countries suffering deforestation. Your project submission consists of four written parts and one visual presentation.
There are two Gold Medal winners each year, and each team member receives $2,000 in cash plus a medal. One of those teams also receives the $25,000 Columbus Foundation Community Grant to fund a practical implementation of the proposed project.
U.S. Space & Rocket Center Foundation
The U.S. Space & Rocket Center Foundation offers several programs for children (Space Camp, Space Academy, and a day camp, all located in Huntsville, Alabama), and hands out full scholarships to certain types of students. Here are the five categories of awards:
Academic Achievement, meaning students must be taking a curriculum for gifted children or have an excellent record in school.
Financial Need/Disadvantaged, for students from low income families, including those drawing government assistance.
Leadership, for students who are natural leaders at school or in their communities.
Special Needs, for students who have physical handicaps or trouble learning.
General, for students ineligible for other categories who demonstrate in an essay their particular fascination with learning at one of the Space Camp programs.
MATHCOUNTS
The Raytheon MATHCOUNTS National Competition rewards mathematical prowess for students in grades 6-8 who have advanced to the finalist stage in regional contests. In 2012, 100,000 students from all over America participated, and the winner receives both the Donald G. Weinert Scholarship for $8,000 and a trip to Space Camp. Second place in the Countdown Round brings $6,000, and semi-finalists each take home $4,000 scholarships.
J.M. Smucker Company
The J.M. Smucker Company sponsors the Jif Most Creative Sandwich Contest, in which you compete by devising a surprising and delicious recipe for a sandwich using Jif brand peanut butter. Past winners include a peanut butter quesadilla, taco, and fortune cookie sandwich, and while it will be difficult to surpass the imaginative quality of those innovations, it is worth your while to make the effort. The winner receives $25,000 for college, and four runners-up also get $2,500 each.
Scholarships For Schoolchildren
First Catholic Slovak Ladies Association
The First Catholic Slovak Ladies Association (FCSLA) provides scholarships for students in grades 1 through 12. FCSLA is a fraternal benefit organization into which members pay dues to fund their own insurance plan, and receive life insurance and other returns, such as a chance to apply for scholarships. Consequently, you must be not only a member of three years standing to apply, but also purchase several insurance certificates issued by FCSLA.
Scholarship amounts for grades 1 through 8 are $750 and for high school, $1,000 each. Students' applications will be evaluated in the following way: 50% performance in school, 15% family membership in FCSLA, 20% leadership ability, and 15% circumstances meriting special consideration.
Scholarships For Special Training
American Morgan Horse Institute
The American Morgan Horse Institute (AMHI) provides scholarships for young people interested in learning about and working with Morgan horses. Here are three of the available awards:
The AMHI van Schaik Dressage Scholarship gives $1,000 to a lover of Morgan horses who wants to improve his or her proficiency in dressage, which means training yourself and your horse to move together based on your physical signals. It is an Olympic discipline, and the van Schaik award is intended to train a rider to achieve at least Fourth Level.
The AMHI Graywood Youth Horsemanship Grant supports young people who want to study techniques of Morgan horse care with professionals, including methods of breeding, management, and riding.
The AMHI Paul J. Stephan Memorial Award brings $1,000 to a young man who is planning a career in the Morgan horse business. There is no minimum age, and the Stephan is a one-time gift.
Browse Scholarships
Resources
More Educational Resources