Scholarships for Rhetoric Studies
Tracking Down Money for a Rhetoric Studies Major
As a branch of academics, rhetoric is an ancient discipline, studied in Greece as far back as the fifth century B.C. Originally referring to spoken language and carrying a connotation of persuasive intent, the definition of rhetoric expanded to include writing and now includes any use of symbols in persuasive communication. In higher education, rhetoric is enjoying resurgence in popularity as a major field.
As a student of rhetoric, you may be finding your search for scholarships difficult. It helps to know that rhetoric majors are usually handled by a college's Communications or Writing department. If you can ascertain which department will host your rhetoric major when you enter college, you can then search the list of scholarships and awards provided by that department for appropriate funding.
That means you'll find it much easier to locate scholarships if you choose a college first. Most rhetoric scholarships are offered through specific colleges, so looking through the offerings of only one institution will narrow your possibilities.
On the other hand, if you will require scholarship aid to attend college and finding that aid is more important than selecting a particular college, then approach your search from the opposite end by looking for any college with general scholarships in communications or writing. That will then give you some ideas about where to find the most financial assistance available to you as a major in rhetoric.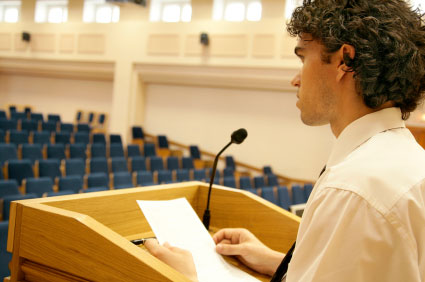 College Scholarships
Here are some colleges that currently offer scholarships in rhetoric. There's a wide geographic distribution in this sample, so you may be able to find a scholarship in your target region fairly easily.
Idaho State University's Department of Communication and Rhetorical Studies offers scholarships for which you can apply at the beginning of the fall and spring semesters. Preference is given to seniors first, then juniors, but any student is welcome to apply. This scholarship is based partially on need with emphasis upon how well you meet the requirements of the scholarship (full-time course load with at least a 2.00 GPA). In order to qualify, you must have declared your major in Rhetorical Studies and earned a minimum of 58 college credits.
Colorado State University (CSU) offers two scholarships for graduate students pursuing degrees in rhetoric. The James J. Garvey Graduate English Language Scholarship goes to a full-time graduate student in at least the second semester of study in Composition/Rhetoric. Applicants must have completed six of a list of specific language courses. The selection process favors those with first-generation status and a GPA of 3.66 in courses related to the core discipline.
Since CSU has no rhetoric major per se for undergraduates, the James R. Irvine Scholarship goes either to a major in speech communication who has demonstrated ability in rhetorical studies or to a graduate student in the rhetoric program who has an interest in taking a Ph. D. A GPA of 3.4 is required. The scholarship is given in memory of Dr. Jim Irvine, a former professor of rhetoric at the university.
James Madison University has established a School of Writing, Rhetoric & Technical Communications, which offers the need-based Write of Passage Scholarship. The school's director has sole discretion to establish selection criteria for this award, so it would be wise to contact the school directly to determine how to improve your chances of winning.
The University of Rhode Island (URI) has designated the Harrington School of Communication and Media to host rhetoric majors. There are four scholarships and awards available:
Stephanie Bounds Award for Excellence in Writing and Rhetoric, for seniors
Gertrude Spencer Award for Excellence in Written English, for masters of the written language
Linda K. Shamoon Scholarship in Public Writing, targeted at rhetoricians in particular
University Excellence Award.
The University of Richmond's Department of Rhetoric and Communication Studies offers the Elizabeth Rae Hodkinson Scholarship, for a junior or senior with financial need. A high GPA and contributions of service to the department and community will strengthen your application.
Communication Scholarship Options
Sometimes a rhetoric major may qualify for writing or communications scholarships. This depends upon the requirements of the scholarship, particularly the list of qualifying majors (is rhetoric included?). There are many such scholarships available, and you should not overlook them in your search for financial aid. See more Communications scholarships.
Communications Scholarships
Browse Scholarships
Resources
More Educational Resources