Agricultural Communications Scholarships
Get Funding at Your School
Do you have an interest in working to streamline interaction between organizations and individuals, as well as working in a pursuit that involves the environment? If a career in a double-sided field requiring two very different parts of the brain is an appealing prospect to your multi-tasking intellect, the broad arena of agricultural communications may be well suited to you.
The field of agriculture spans the realm of large corporations, bioengineering, livestock, food handling, food production, and even grassroots organic farming. An increasing specialty within this umbrella field is that of Agricultural Communications.
Between agricultural extension agencies, food producers, and private organizations, the field must be hinged together with effective and highly trained educators whose expertise lies in agriculture, but whose primary function is to effectively communicate between various agencies as well as with the public at large. The agricultural communicator within the world of farming essentially serves as the tie that binds while keeping the peace and the food flow churning.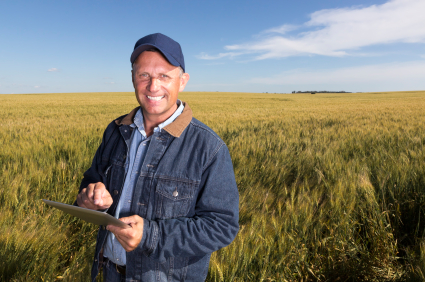 These uniquely charged individuals, as you would expect, are required to wear many hats on a daily basis. Professionals in the field will find themselves doing everything from creating websites to presenting lectures and writing informational brochures, among a slew of other communications tasks that facilitate understanding and better farming principles. Job opportunities for Agricultural Communicators can be found in businesses and public organizations, at broadcasting and advertising companies, and as educators and teachers at all levels of knowledge.
Since this niche career field is so essential to the success of the agriculture world, there are a number of scholarships in place to promote its study. If you are dedicated to the pursuit of agri-communications, and are looking for some money to fund your degree, look no further than the college-sponsored awards we have listed.
Scholarship Programs
The Communicating for Agriculture Scholarship and Education Foundation
With a headquarters in Minnesota and a dogged dedication to encouraging talented to pursue agriculture through grants and training incentives, the Communicating for Agriculture Scholarship and Education Foundation is full of good works. They have already handed out two million dollars in scholarships, and there's more where that came from. Their educational facilities include international training programs through which they do working-educational career placement stints in horticulture, animal husbandry and a variety of agricultural facets.
See the CAEP website for the assortment of their offerings, including beekeeping and agribusiness, and let the contacts on their site guide you towards the appropriate applications, registrations and program details. Contact the Foundation branch of the organization to receive scholarship informative for their respective training programs.
National Agricultural Communicators of Tomorrow
The one-and-only Yamaha Motor Corporation sponsors a scholarship – three, in fact – worth $1500-$2500 for students to use towards their education and career development in the field of agricultural communication. These awards are based on financial need, academic merit, and the overall caliber of the application.
The scholarship recipients will also receive funds to attend the Agricultural Media Summit, as well as financial incentives for their professional development in agriculture, including gift cards and a cash prize.
Ohio State University
There are quite a few scholarships available to students majoring in the Department of Agricultural Communication, Education and Leadership at Ohio State University. The comprehensive program provides both Bachelors and Masters degree options and trains students in a mass communications type of program within the realm of agriculture.
Students are trained to communicate effectively and persuasively across a slew of media and are expected to be aware of current issues and news that affect the industry. The scholarships offered include a few general and a few specific awards:
Earl and Wilma McMunn Scholarships offer generous awards to undergraduate majors in Agri-Communications.
Ohio Agribusiness Association Educational Trust awards up to $2,000 to students who've been in the major at least a year.
John Hancock Klippert Memorial Scholarship awards $1,000 every year to a department major.
Former 4-H'ers may be eligible for the Bill Zipf 4-H Memorial Scholarship. Applicants may earn $1,000 toward their tuition for their involvement with this agricultural education program.
Leo Rummell Endowed Scholarships recognize an outstanding student in the major who has completed their internship. Awards are $2,500.
University of Illinois – Urbana-Champaign
Agricultural Communications Scholarships from the University of Illinois at Urbana-Champaign are given out to student majors who are able to demonstrate top-notch academic records, in combination with a financial need for the extra funds. UI students will choose to emphasize Consumer and Environmental Sciences Communications and will be required to micro-specialize in a communication medium of their choice.
The primarily merit-based awards range in value from $500-$1000 and are good for one year of study. Notably, the University of Illinois is also quite a good resource to other agricultural communications scholarships that are out there, and students looking into the field should check out the department's website.
Purdue University
Purdue University in Indiana has assembled an Agricultural Communications major that is an interdisciplinary collection of loosely related courses that ultimately come together to make sense for the student wishing to pursue the career. Participants are prepared for demanding jobs in communications and education that is pertinent to farming. Scholarships available to students in this major include:
Farmer's Exchange Outstanding Junior in Agricultural Communication Scholarships award gives $500 to students with a recognizable talent in the field and whose participation in department activities is exemplary.
Indiana Farm Bureau, Inc. Outstanding Senior in Agricultural Communication Scholarships award $500 to those students they deem most promising in the field.
Farm World Journalism Scholarships award $500 to students in the Ag Comm major whose work in the area of journalism is exemplary. Naturally for this prize, an essay is required for consideration.
Indiana Prairie Farmer Outstanding Student in Agricultural Communications Scholarships go to the most academically talented in the major regardless of class level. Applicants must be natural leaders. These competitive awards are $500.
Oklahoma State University
The Agricultural Communications program at Oklahoma State University has been in existence since the mid 1920s and therefore is one of the most well established in the country. Since that time, obviously technology and mass communications have gone through various metamorphoses to get to where we exist now on a consistently changing plane of media. Likewise, the major courses have changed quite a bit, as well, to suit the needs of the times, and the result is a comprehensive and relevant curriculum that will serve students well.
Students in the major are able to design portions of their curriculum so that they are targeted towards their specific career path. Scholarships available to students in the Department of Agricultural Education, Communications, and Leadership include:
Agricultural Communications Alumni Scholarships reward those whose academics and participation in Agricultural Communicators of Tomorrow group are outstanding and who are also in financial need of the funds. Up to $500 is awarded per year.
Herb Karner Agricultural Journalism Scholarships go to those whose talent lies in the written word and whose commitment to the field is unrivaled. Students must have excellent writing records. Awards are $500.
Ferdie Deering President's Distinguished Scholarships offer generous scholarships to academically motivated freshmen in the major. Up to $2,000 is renewable each academic year as long as candidates maintain very high academic standards.
Dr. Alezander Magruder Memorial Scholarships are intended to recognize outstanding all-around students who are residents of the state and who promise to be strong leaders in the field of agricultural communications.
Ernest Shiner Memorial Scholarships award $500 to a student whose talent and career interests are in printed communications, which may include agriculture.
More Scholarships in Agri-Communications
If you haven't found the scholarship opportunity that's just right for you here, don't worry as this is far from a comprehensive list of all the offerings. There are many more agricultural communications opportunities that may be open to you from private and public colleges throughout the US, as well as through independent training programs such as the aforementioned Communicating for Agriculture Education Foundation.
Let the National Agricultural Communicators of Tomorrow be a central resource for your news and information on career and internship opportunities. As the face and field of agriculture is changing so much with the shifting needs of the people, keep on your toes and watch for new monetary incentives to pop up in this engaging field of study. The Association for Communication Excellence in Agriculture, Natural Resources, and Life and Human Sciences is also a key hub of information, professional networking and development, and mid-career award opportunities.
Be sure to get in contact with the agricultural department and financial aid department of your college or university to see if they may have any other awards to offer you. And be sure to be specific and open about your desire to pursue agricultural communications – since the study is so particular and necessary to our system, there may be benefactors willing to financially ensure the future of America's agri-education, starting with you.
Communications Scholarships
Browse Scholarships
Resources
More Educational Resources