Vote now for the 2010 Edublog Awards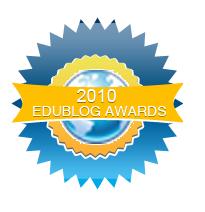 It's that time of year again to cast your vote for the annual Edublog Awards, an online award ceremony which recognizes the top educational bloggers, wikis, podcasts, and "tweeters" on the web.
Since 2004 the Edublog Awards has been honoring those who excel in educational blogging and social networking,  and its purpose is to "promote and demonstrate" the educational values of social media.
As stated on their website, the Edublog Awards was created as a "response to community concerns relating to how schools, districts and educational institutions were blocking access of learner and teacher blog sites for educational purposes."
How the nominations work
Bloggers in the educational community were asked to write their nominations in a blog post to pinpoint who they feel is the best "edublogger" and/or tweeter on the web. (This year over 400 nomination posts were recorded).
A group of Edublog judges then surfed through each of the nominated sites and shortlisted the nominations into 23 different categories, ranging from "Best Individual Tweeter" to "Best use of a PLN."
Categories
Click on any of the following links to look over the nominations and cast your vote:
Voters have until 12 p.m. EST on December 14th to cast their vote. Until then, the results will remain anonymous, and the winners will be announced at a live online awards ceremony in mid-December.