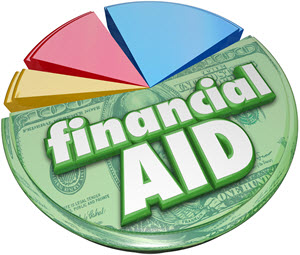 Are you worried about how you'll pay for college or looking for ways to lower your family's out-of-pocket costs? While it's true that a college education comes with a high price tag, securing financial aid can help you confidently pursue your educational goals. There are many different funding opportunities that can help you finance your college education, including scholarships, grants, fellowships, and loans. You'll find that these opportunities each have their own requirements. Learn more about different financial aid options for your undergraduate studies, and determine what's right for your needs.
Scholarships
Scholarships are one of the best ways to pay for college. You don't have to repay scholarship funds, so there's no financial burden after you graduate. Scholarships are awarded by government entities, schools, and private organizations. Scholarships are usually awarded based on merit, financial need, or other qualifying requirement. Devote your time to researching as many scholarships as possible to maximize your opportunities. You'll find that scholarships are awarded for a wide variety of reasons, and you may be eligible for more scholarships than you originally thought possible. Each scholarship will have its own application requirements and deadlines, so it's important that you start researching scholarships as soon as possible. When applying for scholarships, stay alert for scams that take advantage of hopeful students and steer clear of resources that require payment or just seem too good to be true.
Grants
Grants are very similar to scholarships. Grants usually don't require any kind of repayment, and students typically qualify for grant awards based on financial need, merit, or some other eligibility criteria. When you submit your FAFSA, you'll automatically find out if you qualify for a need-based federal Pell Grant. Depending on your circumstances, you may also qualify for other limited federal grants like the Iraq and Afghanistan Service Grant, the TEACH Grant, or the Federal Supplemental Educational Opportunity Grant. There are also significant grants at the state level, so be sure find out what college grants are available in your state. These grants often have additional residence or merit eligibility criteria. Be sure to also research grants offered by private organizations and companies, nonprofits, and your prospective schools, as there are a large number of private grants available for college students.
Fellowships
Fellowships are a specific type of grant that allows you to receive funding while pursuing specific academic interests. While many fellowships are geared toward post-graduate study, there are also a significant number of undergraduate fellowships. Fellowships can range from short-term programs to multi-year commitments. Some fellowship awards are limited to specific areas of study, while others are open to all outstanding students. You'll find both independent programs and school-specific fellowships. Not only do fellowships provide funding, but they are also usually quite prestigious. Winning a spot in a fellowship program is very competitive, as they are designed to give students the chance to focus on academic research and access development opportunities that will help students make contacts and significantly advance in their course of study. As with all scholarships and grants, it's important that you plan ahead. Fellowship applications can be quite extensive and may even require additional steps like a nomination, interviews, and presentations.
Loans
Student loans allow you to borrow funds to cover the costs of higher education. Unlike other financing options, you must repay funds received through student loans. While repayment is a significant drawback, student loans also are a vital financial aid tool for many students. It can be quite challenging to fund all of your college expenses with only scholarships, grants, and fellowships. Remember that your college costs include not only tuition but also textbooks, fees, and necessary living expenses. These total costs often results in a gap between your award funds and actual college expenses, requiring most students to use family resources or take out student loans. Students who need loans should first look to federal loans. Federal loans are need-based and have a much lower interest rate than private loans. Your federal loan eligibility is typically based on your FAFSA. Your course of study and choice of profession may affect your federal loan repayment requirements, as there are certain income- and profession-based repayment and forgiveness plans currently available. If you need funds beyond your federal loan eligibility, private loans can provide additional financing. Private loans, however, usually have a higher interest rate and less-forgiving repayment options, and they may require a co-signer. If you decided to take out federal or private student loans, carefully consider how student loan debt will affect your future finances, as repayment generally begins upon graduation and remaining debt can't be discharged even during bankruptcy proceedings.