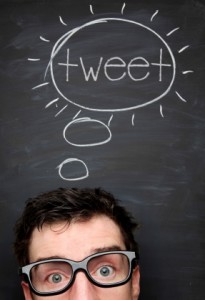 As more and more universities discover the benefits of using Twitter as a communicational platform for their students, following your university on Twitter could help you stay up to date on official announcements, news, and events.
Every institution on the U.S. News & World Report's "Top 100" list has at least one Twitter account, and in a recent study conducted by the University of Massachusetts Dartmouth Center for Marketing Research, it was revealed that 41 percent of universities in America are using social media as a "recruitment tool."
Because primary university accounts are going to have a high concentration of student followers, universities have started creating separate accounts so they can direct important messages to a specific target audience:
Admissions offices are creating their own Twitter accounts to attract new students to their campuses, such as Louisiana State University's Office of Undergraduate Admissions & Student Aid, (@LSUAdmissions).
Some institutions may even use Twitter to promote their alumni networks, such as New York University's @NYUAlumni account.
Even departments within colleges and universities, such as business schools or law schools, have been operating their own Twitter accounts, as well as campus newspapers or research/student service organizations like athletic facilities and libraries.
The University of Florida has the most Twitter accounts out of any other university in the country. There are accounts for official campus news (@InsideUF), the UF Office of Technology Licensing (@UFOTL), the Career Resource Center (@UF_CRC), the UF College of Journalism and Communications (@UFJSchool), and even UF student housing (@UFhousing).
The following universities have the highest number of accounts on Twitter:
1. University of Florida – 24
2.  University of Georgia – 22
3. Carnegie Mellon University – 17
4. George Washington University – 17
5. University of Michigan–Ann Arbor – 16
Find and follow your university on Twitter:
MyCollegeGuide.org has put together a "master list" of all the universities on Twitter, which is constantly being updated thanks to input from readers. (If you notice that your school is missing from one of the lists, be sure to post a comment and let the authors know).