Top 10 scholarship books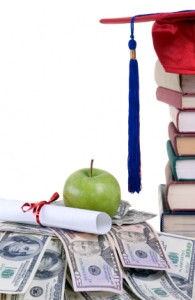 1. Scholarships, Grants and Prizes – 2010: Millions of Awards Worth Billions of Dollars (Peterson's Scholarships, Grants & Prizes) by Peterson's
This book has been called "the Mecca of scholarship books," and is packed full of up-to-date information on a variety of different scholarships along with their contact information and eligibility requirements.
2. Taming the Tuition Tiger: Getting the Money to Graduate–with 529 Plans, Scholarships, Financial Aid, and More by Kathy Kristof
Liz Pulliam Weston, (a personal finance columnist for MSN Money), described this book as "the best, smartest, and most comprehensive guide to financing education." Kristof provides background information on 529 plans, Individual Development Accounts, student loans, private or pubic scholarships, tips for students who are from low-income families, and much more.
3. The A's and B's of Academic Scholarships: 100,000 Scholarships for Top Students (A's and B's of Academic Scholarships) by Anna Leider
This book contains a comprehensive list of approximately 100,000 different scholarships along with information on their criteria, amount, renewability options, and deadlines. The majority of the awards listed range from $300 to $40,000; however, they must be used at a sponsoring school.
4. Scholarship Handbook 2010 (College Board Scholarship Handbook) by The College Board
The College Board is a non-profit organization internationally known for providing college students with information on admissions, enrollment, and financial aid. Their book lists the due dates for numerous scholarships and serves as an excellent resource for future college students.
5. How to Go to College Almost for Free by Ben Kaplan
Author Ben Kaplan provides great advice on where/how to find financial aid for college, how to fill out scholarship applications, and which common mistakes to avoid when applying for financial aid. He is also the author of The Scholarship Scouting Report: An Insider's Guide to America's Best Scholarships, Honey, I Shrunk the Tuition!, Adult and Non-Traditional Scholarships That Totally Rock!, and many more.
6. Money-Winning Scholarship Essays and Interviews: Insider Strategies from Judges and Winners by Gen S. Tanabe and Kelly Y. Tanabe
This book discusses how to write a scholarship essay, how to answer interview questions, and most importantly, how to win scholarships. The book also has a directory of scholarships along with their amount and eligibility requirement. The authors have written numerous other books on scholarships, some of which are Get Free Cash for College: Secrets to Winning Scholarships, How to Write a Winning Scholarship Essay: 30 Essays That Won Over $3 Million in Scholarships, or The Ultimate Scholarship Book 2010: Billions of Dollars in Scholarships, Grants and Prizes.
7. Scholarships 101: The Real-World Guide to Getting Cash for College by Kimberly Ann Stezala
The author of this book founded the only online scholarship database in Wisconsin, and writes a scholarship column for Wisconsin's largest African-American newspaper. She provides great motivational tips for students and parents on how to save up for a college education, as well as how to stand out from other scholarship applicants.
8. Full Ride To College: How To Win Scholarships And Get Admitted To The College Of Your Dreams by Andrew F. Knight
This author was the winner of over $1 million in merit-based scholarship and fellowships, and studied at MIT, Georgetown, and Princeton. He discusses numerous strategies on how students can raise their GPAs before applying for college, or how to balance work and school.
9. The Scholarship & Financial Aid Solution: How to Go to College for Next to Nothing with Short Cuts, Tricks, and Tips from Start to Finish by Debra Lipphardt
This book is full of tips on how to determine your scholarship eligibility and avoid scholarship scams. There are also sections dedicated to resumes, state grants, FAFSA, minority students and interviews.
10. The Everything Paying For College Book: Grants, Loans, Scholarships, And Financial Aid — All You Need To Fund Higher Education (Everything: School and Careers) by Nathan Brown and Sheryle A. Proper
This book is a great resource for high school students, parents, or event adults who are thinking about going back to school. The authors write about saving money for college and long-term investing, and also explain the difference between loans and grants, qualification guidelines, and how to fill out scholarship applications.