More schools offering financial aid for retirees and senior citizens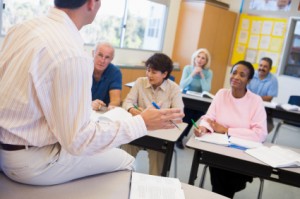 As the baby boomer population slowly drifts into retirement, more and more of these retirees are heading back to college to upgrade their job skills and educational background.  Unbeknownst to some, many colleges and universities are now offering scholarships for seniors so they can enroll in a course at a cheap cost, or at no cost at all.
Depending on the college or the university, senior citizens can apply for tuition waivers or discounts, or enroll in continuing education classes which last anywhere from four to eight weeks. Some schools allow senior citizens to audit a class for free, (meaning they can attend a lecture but they do not have to complete any assignments). In order to qualify, a senior citizen may be required to provide proof of age, state residency, retirement documentation, bank statements, or their high school diploma.
According to a survey conducted by the American Association of Community Colleges (AACC), approximately 84 percent of community colleges in the U.S. offer courses for students aged 50 and older. States that currently offer tuition waivers for some of their public colleges are: Alaska, Arkansas, Connecticut, Florida, Georgia, Illinois, Kentucky, Maine, Maryland, Massachusetts, Michigan, Minnesota, New Hampshire, New Jersey, North Carolina, Ohio, Rhode Island, South Dakota, Texas, Vermont and Virginia, and Washington, D.C.
The GO-60 Program at Penn State University offers free tuition to those who are 60 years and older. In order to qualify for the program the applicant must be a Pennsylvania resident who is retired or working part-time, or a former Penn State alumni or employee.
At Northern Michigan University, Michigan residents who are 62 or older can apply for free tuition through the Senior Citizen Scholarship Program. However, applicants are still required to pay the student discretionary activity fee which costs $30.26, and the program does not apply to online courses.
The University of Delaware has an Over-60 Tuition Free Degree Program which offers free tuition to Delaware residents aged 60 and over. Seniors who are currently taking classes as Continuing Education students are not eligible for the program, and the applicants still have to pay for late registration charges, fees, and textbook costs.
The Prime Timers Program at Georgia Perimeter College allows those who are aged 62 or older to complete an associate degree program for no cost at all, however they are required to pay for their own textbooks as well as various activity, technology, athletic and student support fees.
Over 3,000 senior citizens have already applied for the Senior Citizen Tuition Waiver at the University of Connecticut, Connecticut State University, or at one of the 12 community colleges. In order to qualify the applicant must be a Connecticut resident and aged 62 or older.
The Evergreen Program at Boston University allows those who are 58 and over to audit undergraduate classes for $100 per course or attend "special seminars" taught by the university faculty.
Last year as part of the Edward M. Kennedy Serve America Act, a senior scholarship program was created to help support those who are 55 or older get funding for their education. The program awards $1,000 to a senior citizen who volunteers more than 350 hours out of the year, and they can choose to use the money for their child's, grandchild's, or foster child's education.
The Osher Lifelong Learning Institutes (OLLI) currently offer 93 non-credit senior citizen programs which can cost anywhere from $25 to $450. Seniors can enroll in a course at any of the 118 participating colleges and universities, some of which include the University of South Dakota, San Diego State University, Texas Tech University, and Florida International University. (To find the one closest to you click here).
These are just some of the many programs that are available for seniors who are interested in applying for tuition discounts or scholarships. Because many colleges and universities generally do not publicize these opportunities, senior citizens are encouraged to call their local college or university to see if they are eligible for any scholarships or tuition waivers.