Colleges That Offer Degrees in the Ski Industry
Study in the Snow!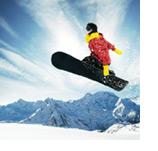 Remember when you told your parents you wished you could ski and snowboard for the rest of your life, or that your dream job would be to work at a ski resort? Believe it or not there are about a handful of unique college degree programs that could earn you a career you always dreamed of.
Pro snowboarder or Olympic skier might be out of the question, but if you've never considered the other wish-list careers that exist in the ski industry, here are a few to chew on:
Ski resort managers and operators
Adaptive ski instructors
Ski and Snowboard teachers and coaches
Safety specialists
Resort and slope designers
Ski Resort Management
Ski Area Management or Ski Resort Operations degrees are on an upward trajectory. These hybrids span the gap between the specialized needs of the ski industry and the rest of the general recreation industry and hospitality and management degrees. So far I've tracked down 4 schools in the U.S. that offer degrees in ski area management:
Winter Sports Management
The University of Maine at Fort Kent announced last week that beginning in the fall of 2008 it would offer the only major in Winter Sports Management available in the country. The difference between this and programs aimed at ski resort management, like those I listed above, is that UMFK is aiming its sights on smaller, non-profit winter sports venues (not big resorts) that it says have unique business and management needs.
Is this your classroom?
Most of these programs dedicate a big piece of their curriculum to field trips. You'll find that the schools that offer ski industry majors are also located in prime skiing regions: Colorado and the West, the Northeast and even Canada. You learn on-site every gear and cog that makes a big time ski resort tick, from staffing (human resources) to slope and lift design and even the mechanics of slope grooming.
Ski and Snowboard Instructors
Your best bets for a college major that could land you as an instructor or coach on a ski or snowboard slope include first the University of Maine – Farmington's Ski Industries Program. Students pursuing a Bachelors degree in any major may add on one of these dream-job specializations: Adaptive Ski Teaching or Professional Ski Coaching and Teaching. There may be no other formal college degree program quite like this.
The next best option is to look for programs that focus on outdoor or adventure sports education. Outdoor Education majors at Idaho State University have the option to load their major with courses that focus on winter sports education, like Avalanche and Winter Sports Safety, Winter Survival, and Snowboard, Ski, and Adaptive Ski Instructor Training courses.