Opportunities for Foreign Students
Just as students from the United States have the opportunity to study abroad, we welcome students from around the world to complete their studies here – either as a full-time or an exchange student.
Many colleges and institutions of higher learning offer programs to foreign students, and several come with opportunities for funding, in the forms of scholarships, grants and fellowships, The governments of both the student's home country and the United States can also be a source for educational resources.
There are also programs for distance learning offered by many schools. This allows foreign students to complete their studies in their own country, if moving to the U.S. is not an option.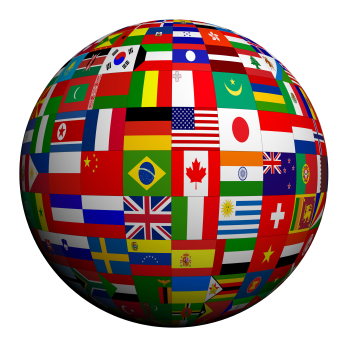 Traditional on-campus colleges are limited in the amount of students they can enroll. With virtual and interactive classes that can be accessed in any part of the world through an internet connection, the allowable number of students increases dramatically. This also saves the student the additional costs of travel and living abroad.
If you do not live in the United States, distance learning may be a wise choice. If you want to truly become familiar with the American culture and lifestyle, however, you can't beat the experience of actually being here.
Requirements and English Proficiency
The requirements for international students are much the same as domestic students. In most cases, proof of a high school diploma or equivalent is required during the application process. Of course, post graduate work requires the proper upper level degrees, and demonstrated proficiency or potential in the chosen field of study.
In order to qualify for a degree program, if the student's native tongue is not English, they may be required to take the Test of English as a Foreign Language (TOEFL). In graduate programs, students are often offered positions as teacher's assistants (TAs). These positions often included helping the professor by teaching support classes for the main lecture. I these cases, students may also be tested on conversational English, with minimum proficiency scores required.
Many colleges provide language study programs to sharpen the students' English as they work toward their degree. There is usually more than one level of these language programs to match the English level of the student. If the student's English skills are limited, distance learning will not be possible until after their proficiency has improved. However, relocating will show increased commitment and may increase probability of enrollment. In addition, many schools offer accelerated English programs, to give foreign students the opportunity to sharpen their languages skills in a much shorter time.
Government Requirements and Assistance
Foreign students must obtain a visa for college study in the United States, either an F-1, J-1 or M-1 visa. The first steps in this process are to be accepted into a school with an accredited Student and Exchange Visitor Program (SEVP) program, and filing the I-20 Form. This acts as a certificate of eligibility. The U.S. school sends the student the form with such information as the courses of study, cost of education, and level of English proficiency. A school official and the student must sign the form.
EducationUSA is a network of thousands of worldwide resources established by the U.S. State Department to help international students in their pursuit of studying in the United States. They also aid educational professionals at U.S. institutions in attracting international students. EducationUSA advisors can be found in embassies, consulates and other partner organizations worldwide. These advisors can help potential students with all the steps in the process including finding the right schools, filling out the necessary forms, setting time lines and help finding financial assistance.
The Bureau of Education and Cultural Affairs offers many programs for those interested in visiting the United States for cultural, educational, or professional exchange. They provide information on different plans, travel and living arrangements, financial aid and other information for the student and their families on everything to expect with the exchange program.
The Fulbright Scholar Program, administered by the Council for International Exchange of Scholars, pairs the United States government with the governments of countries worldwide to "increase mutual understanding between the people of the United States and the people of other countries."
Similarly, students should check with their home governments and universities to find out what exchange programs and other resources may be available.
Relocating Advice
Students who are coming into the U.S. are advised to arrive much earlier than their semester start date. Even if they are only coming for a single semester exchange program, they still must become familiar with the school grounds, local transportation, and communication with school faculty and local housing. Health insurance is also recommended through plans sponsored by the National Association of Foreign Student Advisers (NAFSA), also referred to as the Association of International Educators.
Distance Learning
More Educational Resources