Find the Scholarships You Need on Any College Website
Colleges and universities have dozens, maybe hundreds, of scholarships to give away!
Do you know how to search a college or university website for scholarships? Digging up scholarships from college websites has become second nature for us. But it occurred to me that many students might not know how to find those college scholarship lists buried as they can be on deep college pages.
I'm going to share some quick tips that should help you find the scholarship resources you need on any college website, including some you could be missing.
First, let's understand the common types of scholarships a college provides:
Institutional scholarships—target general students and are based on academic merit and/or financial need.
Endowed scholarships are likely department specific, and target a much smaller population of students typically studying in a particular subject or pursuing a certain degree.
**An endowed scholarship is one funded by private sources, often outside alumnae or corporations, usually with fond ties to the institution or department. You'll also see many awards that have been established in memory of a student or faculty member, also endowed scholarships.
1. Here is a step by step strategy to follow for finding institutional scholarships on a college website:
Start at ABC College's homepage, not the bookstore page or the football team's page, but the main page, probably something like, www.SomeCollege.edu.
There are some pretty standard links on this page (obviously if any links say "scholarships" that should be a no-brainer, but that situation is rare); look for "Admissions," "financial aid," or "financial aid and tuition." You might be given more general categories, like "prospective students" or "current students." Some colleges try to make it more intuitive, with links like "paying for school." Also, many sites feature a "Quick Links" drop down menu. Here you are likely to find a standard "financial aid" link.
From the Financial Aid main page, you will likely have a choice of links including "how to apply," "forms and applications," and "types of financial aid." Usually the "types of financial aid" link is the lead-in to information on scholarships, as well as loans and work-study programs.
Follow the "scholarships" link. Chances are good you'll end up on a page that tells you a bit about the institutional scholarships available, those merit and need-based general scholarships, plus information on eligibility and applying.
Often there are further links for "outside scholarships" and "endowed scholarships." Use these to access more targeted awards.

**To sum up what we just did: you should find the general merit and need scholarships on a webpage in the Financial Aid section of the college or university website. When in doubt, always head for "financial aid."
2. Find endowed or departmental scholarships:
There are a couple of different ways to find the department-specific scholarships on a college or university website.
From the college homepage search any 'academics' link, and this should lead you further to a directory of departmental schools and subjects, such as biology or anthropology. After making your selection, most likely you will be lead to the department homepage. This is where your search can get tricky: from here you will likely have two search methods to choose from:
Direct link to scholarships
Hunt and peck method
Department specific scholarships may be as easy to find as the "endowed scholarships" link or they may be buried in deeper department pages with little direction on how to access them directly.
Here's an example I just picked to examine the 'hunt and peck method', starting at Georgetown's homepage:
I see the words 'academic departments' on the main menu, so I'm headed in the right direction.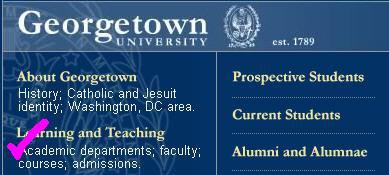 From Georgetown University's Academic Programs page I noticed a link stating, "All academic programs A-Z". Perfect!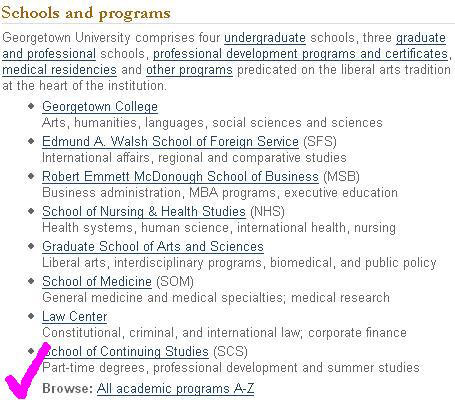 Anthropology was selected from the list and I arrived at the Department of Sociology and Anthropology.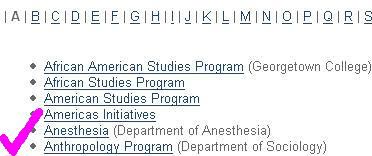 From there I had the following tabs/links from which to choose: Home, About, Programs, Courses, Faculty, Research, and Resources. Logically, which would you choose to explore first? I chose "Resources."

There I had to choose from even more targeted links, and I went with "For Anthropology Students,", it seemed logical.

Finally, that led me to the Anthropology Student Resource page and a long list of departmental scholarships and fellowship programs.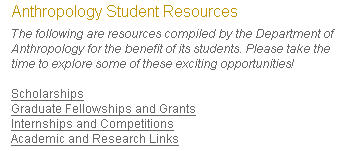 See? It can get tricky and I occasionally choose incorrectly using websites of different universities.
**The trick to finding departmental or endowed scholarships: be persistent. What do I do when I'm at a dead end? Back out and try again.
Use Google to find specific pieces of a college website:

When all else fails defer to Google: open a fresh Google search page. In the search box type in a query like this: scholarships <name of department><name of school> then hit Enter or the Search button. For example, I queried:
scholarships anthropology georgetown university
First search result: the GU Anthro department page (same page I described above where I clicked on the Resources link).
**Tip: Large universities house related departments inside colleges. The "College of Arts and Humanities," for instance, will likely have a variety of departments like English and Sociology, so you might have to dig through a few academic layers to really get to the place where you want to be. If you get confused: Google the department name and university, simple as that.